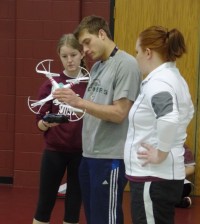 By Rachael Arnts–Morningside's newest program is taking flight. Drone Operations and Maintenance will be a new course added this coming fall.
Even though it has not really been advertised, there has been a lot of interest in the new drone course.
"The class was initially for ten students. We expected maybe four, five, or six students, but it filled up instantly. We had to bump up the number of participants allowed," says Agriculture Professor Rich Crow.
The idea for this course came about when a local farmer shared an idea with Professor Crow. He wanted his High School kids to become interested in technology and take that knowledge to college. This conversation then led to a proposal to the administration.
Last fall, the course was put in the pilot phase with three trusted upperclassman from the agriculture department, along with some High School students. The intention was to gain back feedback on whether or not the course will work. The students provided positive experiences with this pilot test.
Drone Operations and Maintenance will be a year-long hands-on class.  Each semester is worth two credits. The Fall will be "ground school." An FAA (Federal Aviation Administration) advisor will be teaching the rules and regulations for drone flying. In the Spring, the students will spend time flying the drones, while learning about maintenance and repair. The class is a 300 level elective course. This course is also open to High School students.
"What I found interesting is that is only a couple of the students signed up  [for the course] are Ag," comments Crow.
There is a high demand for young people with drone experience for a wide array of various industries besides agriculture. For example, realtors like to get aerial photos of houses and even provide a virtual tour for customers all through a drone. This course will be a way to prep students with basic skills if they wish to someday attain a commercial license.