By Grace Nordquist–Golden Bowl is a Chinese restaurant known for staples such as sweet and sour pork and sesame chicken. Its affordable pricing makes it a friendly option for college students, yet it's a bit of a drive located at 1408 Hamilton Blvd in Sioux City.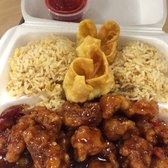 Mo and I visited the restaurant on a Saturday evening around six pm. The building itself is smaller and seats around 30 people. Its decorated with typical art work you would see at a Chinese restaurant, like pictures of trees and flowers with different Chinese symbols hanging on the walls.
Golden Bowl is a casual "sit down and order" style restaurant, but Mo and I called and ordered ours to go because we had to be somewhere by 6:30. We called about 15 minutes ahead of time and our food was ready when we got there.
Mo ordered sweet and sour chicken and I ordered chicken and broccoli. The dinners are served with either fried or white rice and two crab rangoons. We both chose fried rice.
The first thing Mo noticed about her dish was the chicken had a fake red color to it. This made Mo a little hesitant when trying it, but diving in she said it was "a good first bite." The red came from the sweet and sour sauce which is the same sauce they use for dipping crab rangoons. One complaint Mo had about the dish was the large chunks of green pepper. She didn't mind the carrots, but wished the green pepper had been cut smaller.
Both or dishes were fresh and hot, both visibly still steaming. I thought my chicken and broccoli was cooked well. I don't like when the broccoli isn't cooked long enough, but there was just the right amount of crunch. There was also a good amount of sauce on the dish. I thought it was an average chicken and broccoli dish, comparable to ones I've had before. The crab rangoons, on the other hand, were some of the best I've had. They had just the right amount of cream cheese and crab flavoring. I also like that they give you two because it makes it perfect for leftovers the next day.
Over all, Mo gave her meal a 6.8/10 rating. The fake red coloring and large pepper chunks were off, but the rest of the dish was good. She gave the service a 9.2/10 rating, and said the lady who waited on us was nice. For the atmosphere Mo gave it an 8.5/10 rating.
Overall, I would give my meal at Golden Bowl an 8/10 rating. It was good, but not anything too special. The service I would give a 9/10, it was clear and easy to hear them over the phone when ordering and the food was fresh when we got there. The atmosphere I would rate a 7/10, it could've been a little cleaner but it wasn't too bad.
I would recommend Golden Bowl for someone looking for typical Chinese American food, especially if you like crab rangoons. I would go again, but also think Panda Express is just as good and closer to my location.