By Tracie Tuttle–Students got the chance to show off their artwork at the annual Morningside College Student Art Show this past week. This show allows students of all majors to display their art in a gallery setting and receive awards.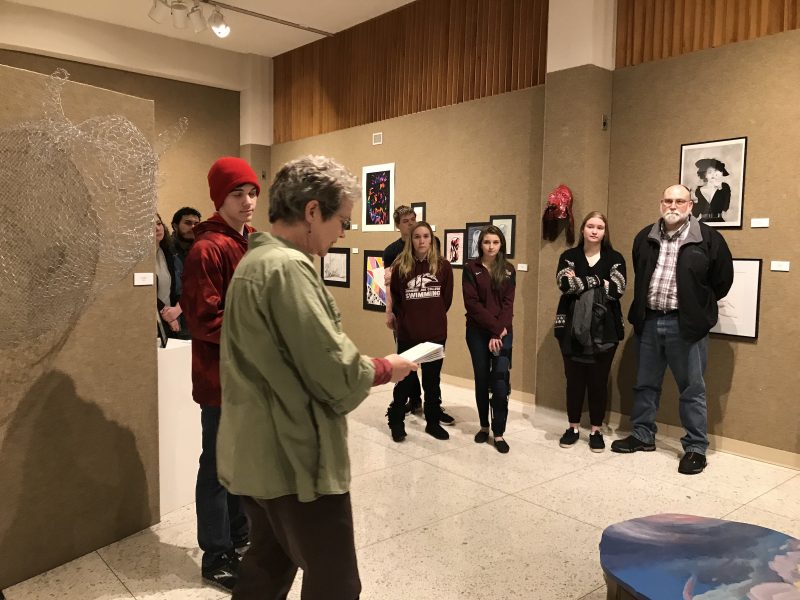 The show featured many different mediums of art including: photography, paintings, drawings, sculptures, and graphic design pieces. This year's show was judged by Sioux City artist Michael Frizzell and a professor at Wayne State College, Meghan O'Connor.
During the reception, I took the opportunity to ask a couple of artists about their work.
Missy Gillette, a sophomore studio art major, talked about her series of three relief prints titled Only Skin Deep. Using the process of carving into a piece of linoleum, Gillette was able to capture the "sketchy" nature of her art style and experiment with the use of white ink on black paper in one print in the series. She went on to describe the message she wants the viewer to receive from this work: "What I wanted to show in this piece is that we
all might be different, but we all have the same basic structure. We are different but not so different."
Ashlei Eyer, a junior non-profit management major, described the Student Art Show as "a neat experience to see my art hang on something that isn't my basement wall." Eyer's artwork, titled Beneath the Surface, embraces dark color tones and explores the use of gel-like mediums mixed with acrylic.
Over the past year, Eyer has had some health concerns, and to release some of the frustrations related to her illness, she "threw some paint on the canvas until it represented [her] feelings." She went on to say that the final result was an accident.
Both Gillette and Eyer scored honorable mentions for their previously mentioned work. A complete list of winners is located below.
If you're upset that you missed this show, don't forget to check out the upcoming show in the Hickman-Johnson-Furrow Learning Center titled "Not All Black and White" put on by photographers Makaelyn Glienke and Rae Clinkenbeard.
Winners:
Photography:
1st Place: Jesseca Ormond, Textures of the Sea
2nd Place: Makaelyn Glienke, A Flower Among the Remains
3rd Place: Ashlee Brus, Laundromat Blues
Graphic Design
1st Place: Abby Koch, WWRD
2nd Place: Courtney Klocke, Untitled (Lo Mein)
3rd Place: Anna Uehling, Typo Cat
Studio Art
1st Place: Samantha Stodola, MS: 01, Charcoal and Graphite BEST OF SHOW
2nd Place: Riley Custer, Smitten Mittens, Linoleum Block Print
3rd Place Jack Weiss, Maple Seedling, Wood Sculpture
Honorable Mentions:
Takuya Matsui, Quail Eggs, Photography
Ben Heib, Deconstruction Paper, Photography
Ashlei Eyer, Beneath the Surface, Acrylic on Canvas
Lesley Valerio Chairez, Explosive Creativity, Ink Print
Melissa Gillette, Only Skin Deep, Relief Print
Jack Weiss, Blood Hound Acrylic on Ceramic