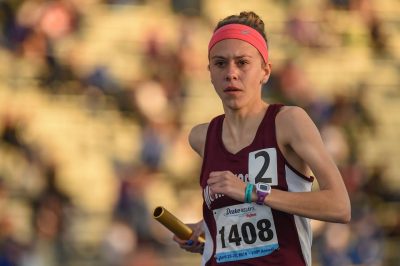 by Jesseca Ormond– Michelle Mumm is a part of both the cross country and track teams. However, she prefers cross country to track because of the close knit feel. She describes cross country as her most enjoyable activity on campus.
"I would say that I enjoy cross country better because of how close the team is. I really like track as well but in track there is the sprint group, the distance group, throwers, etc. The team is a little more split and you do not get a chance to really hangout with everyone like you do in cross country."
When it comes to personal growth, the cross country team has impacted Mumm's leadership and reliability.
"Being on a team has helped me become a stronger leader, it has helped me be more vocal and not just be a leader by my actions. Being on a team has made me more reliable knowing there are people counting on me and not wanting to let them down. "
Coming from a small, close knit high school in Neola, Iowa, Mumm sought a similar college experience.
"I wanted to get to know my fellow peers and teaches, and I wanted them to get to know me as well."
During her first year, Mumm described college as hectic. She labelled figuring out her future as difficult.
"I remember being very stressed, now that I have a plan on what I want to do with my future my senior year has been laid back compared to my freshman year."
During her time at Morningside College, Mumm pursued a biology major. She intends to go into Occupational Therapy and work with Wounded Warriors after graduation.
"I knew I wanted to go into Physical Therapy or Occupational Therapy but was not quite sure. I choose the Biology major because it filled a lot of the requirements that you need to get into graduate school. No matter which one I ended up choosing the Biology major would help me in the long run the best. What I enjoy most about my major is being able to take part in research opportunities. I also enjoy being part of a major that challenges you and readies you for your future."
Overall Mum believes that Morningside College has has given her opportunities that helped her grow as a student athlete.
"[It] helped me compete athletically at a higher level and has helped me become more well rounded which will prepare me for graduate school and my future."