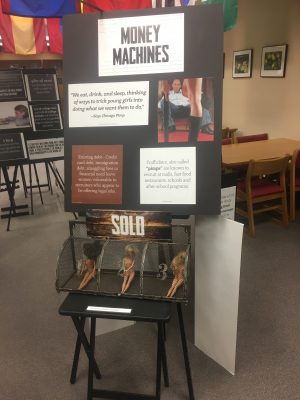 by Jesseca Ormond – The Human Rights, Woman's Right class invited the traveling exhibit displayed in the Hickman-Johnson-Furrow Learning Center April 9th -13th.
Sex trafficking is a thirty-two billion dollars a year industry, and The Siouxland Coalition Against Human Trafficking (SCAHT), in conjunction with the Siouxland Restoration Center, sought to educate people on this industry through efforts such as the travelling exhibit.
The exhibit was a result of a project from the summer of 2016. It is a visual and educational depiction of facts and occurrences of human trafficking. It was created in collaboration with students and professors from Morningside College and Briar Cliff University alongside SCAHT.
Morningside Senior and Intern at SCAHT, Nancy Medel, emphasizes on the importance of having the right to be in control of one's own body.
"I feel like the project is important because it is an issue not just in large cities across the US or in other countries, but also here in Sioux City. Everyone deserves the right to make decisions about their own body and for these men and women that right has been stripped from them" Medel said.