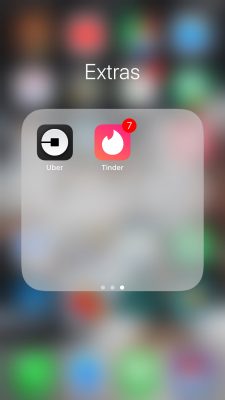 by Jesseca Ormond–Okay, I have a really interesting story to tell. By starting with that, I just want to let you know that this story is actually quite bland but please hang in there.
In the Caribbean, we are not in tune with dating apps. Parties, your mother, and your friends are you dating gurus. Their advice and blind dates are usually unwanted or unsolicited; essentially they are what Tinder is to most Americans.
I say all of that to say, I am a Caribbean student here in the U.S. where online dating is one of the biggest things since sliced bread was 'invented.' I don't date. I'm literally just here trying to survive a four-year degree in this bipolar weather. Anyways, I joined Tinder.
Whoa! I did what? Yes, I joined Tinder. However, I was not trying to get a date. If someone realizes how awesome I am, and just has to be my friend, I am comfortable with that. I'm going off track here, let's reel it in.
I joined Tinder because almost everyone loves selfies, but people are somewhat terrified of posing for a photographer. I joined tinder to meet women who were comfortable with getting their photos taken. I chose only women because I was afraid of the unsolicited pictures I might receive from guys. I heard the stories and I was warned.
So my Tinder profile is relatively lame. I connected my Instagram, which is filled with my work. I listed myself as a student and my bio reads, "Low key trying to meet dope people. High key cool with new friends or whatever." I had to throw in the whatever and a mental shrug to appear less lame. It continued with "self-deprecating humor is my forte. I am terrible with good first impressions… maybe I'm just terrible in general."
Due to a previous mistake, I also included "P.S, if I 'super-liked' you, I guarantee that it was an accident." If you don't know, you can like someone on Tinder, then you can super like them. Super liking them is essentially liking them in all caps and stoning them with a bouquet of roses.
Being the novice that I am, someone who seemed pretty cool showed up on my radar (I do not know what the correct term is, I don't think there is an actual term so let's say radar). I was attempting to see their information and I think I swiped up, and I was informed that I super liked – cough cough- Kelsie. I was embarrassed because I wasn't trying to assault Kelsie with roses and Starbucks, I just wanted to see her profile.
Per usual I just went off on a tangent. Let's reel it in, again. I joined Tinder to look for non-models to model for me. It's practical because it's a mutual choice and everyone is nearby.