by Maggie Ganley– This year marked Alpha Omicron Pi's fourth annual Hop Out Arthritis event.
Hop Out Arthritis is an event Alpha Omicron Pi (AOII) puts on in the spring semester to raise money for the Arthritis Foundation. All funds from the event go towards arthritis research.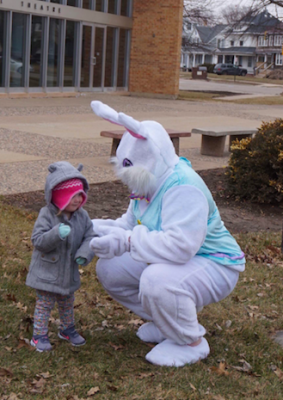 This year the event was held on Sunday, March 25, from 1:00-4:00 pm.
The Easter egg hunt was held on the green space in front of Lewis Hall and the bake sale, silent auction, face painting, and egg dyeing were held in the Yockey room in the Olsen Student Center.
The Easter bunny was present at the event, to the delight of many parents, and could be seen walking around the Easter egg hunt outside and taking pictures with kids.
Many families came and stopped by the event, making it a good turnout for a cold day. The families that came and supported the event along with the businesses that donated helped make the event a success.
Kelsey Diggins, the AOII member in charge of running the event this year, was happy with the turnout of the event.
"Hop Out went really well this year. It was fun to see all the kids enjoying the event. We had many businesses from around Sioux City donate to the cause. I believe the event is important because everyone knows someone with arthritis that could potentially benefit from the foundation," Diggins said.
Hop Out had a good response from families as well. Some families appreciated that pictures with the Easter bunny were free, because they had been charged at other events. Other families said they were glad Alpha Omicron Pi was doing something for the Arthritis Foundation and donated extra money to the cause.
Danielle Metzger, one of the parents in attendance and an AOII alumni, was thrilled with the event.
"I am so proud of the ladies of Alpha Omicron Pi for the awesome Hop Out Arthritis event. I was so impressed with all the different activities for kids and all of the silent auction items. It shows that the ladies worked really hard to make this event fun for kids and adults and it was successful! The level of organization they have is amazing! I don't think that my collegiate class could have held such an event and made it successful. Great job ladies," Metzger said.
AOII is still waiting for a final total from the event, as the rest of the money from the silent auction is being collected and more donations are coming in.