by Jesseca Ormond – Students, both art and non-art majors, submitted up to two artworks that fell under graphic design, photography or studio art to the annual Morningside Art Show last month. The pieces were hung in the Eppley Art Gallery, and were displayed for approximately three weeks.
Director of the art department Terri McGaffin encouraged students to enter the show for two main reasons.
"One reason is that there is much to be gained from seeing your art in a gallery setting,where it becomes a shared experience.  Another reason is that two professionals in the field of art and design see your work, when they come to choose award winners."
The judges of this year's art show were Dave Webster and Joel Damon. Webster is the principal and creative director of Webster, an Omaha brand design firm founded in 1982. He graduated from Minneapolis College of Art and Design in 1977. Damon graduated from Briar Cliff University in 2015 with an art major and an art history minor. Prior to that, his 40-year career was in psychiatric social work and as psycho therapy.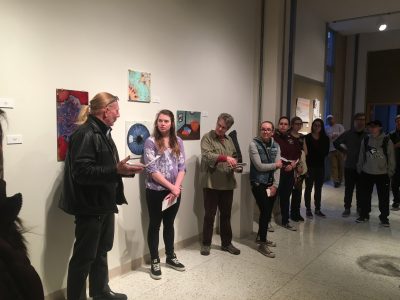 During the art show reception, held on Wednesday 21st February, juror Joel Damon addressed the attendees and expounded on each placed art work. Damon pointed out that the overall quality of the show left an impact.
"It was an honor to be asked to come and participate in this experience. . .  One thing is that so many of your pieces struck us as jurors and as a result of that we had many honorable mentions," Damon said.
Every 1st, 2nd and 3rd place winner received congratulatory prize money. Best of show winner Amy Corathes jokingly acknowledged that the prize money could contribute to the purchase of a textbook.
The the list of winners below.
PLACE
PHOTOGRAPHY
STUDIO ART
GRAPHIC DESIGN
1st
Jesseca Ormond-  Cotton
Amy Carothers – Mathilda
Emma Miller – Rivive the Reef
2nd
Rae Clinkenbeard – Call Me Classy
Amy Carothers – Disassociation
Alyssa Nehring – Eatable Campaign
3rd
Jesseca Ormond – Frames
Jack Weiss – Jellyfish
Alyssa Nehring – M7 Package Design
Best of Show:  Amy Carothers – Mathilda