by Alyssa Nehring — Morningside College is busy preparing for the visit of Mohana Rajakumar, this year's Dimmitt Fellow. Rajakumar's residency will begin on Monday, March 12 and conclude on Friday, March 23.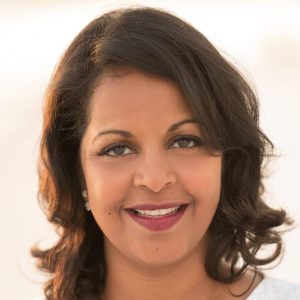 Rajakumar was born in India, then moved to the United States, where she was raised and received her education, including her Ph.D. in English from the University of Florida in 2008. In 2005, Rajakumar moved to Qatar and spent her time teaching and writing about issues related to gender, race, and pedagogy. While living in the Middle East, she became a writer and has since published eight e-books and many papers in peer-reviewed publications.
Rajakumar has a full schedule during her two-week visit but is still very excited to be coming to Morningside.  Over email, Rajakumar is eager to come, "Sharing your books with readers is every author's dream. I am thrilled to be able to do so with such a unique community as Morningside."
During her residency as this year's Dimmitt Fellow, Rajakumar will participate in a wide variety of events on campus, including fourteen classroom visits, two Friday Is Writing Day talks, two large-group CIC workshops, a faculty development workshop, and three feature events that will be open to the public. The first of these is a discussion about the challenges facing writers when they attempt to negotiate "the personal and the cultural" with Morningside English professor Steve Coyne entitled "Making Stories." Both Rajakumar and Coyne are writers; however, they have their differences, especially cultural. As Coyne notes, "You can learn about commonalities even when you're so different". This event will be held on Thursday, Mar. 15, in Klinger-Neal Theatre at 6:30 pm. A book signing will be held before the event at 6 pm.
Another of Rajakumar's many talents is playwriting, and the second premier event will be Morningside's theatre students' adaptation of four of her short plays. Their performance of "Diversity: An Afternoon or New 10-Minute Plays by Mohana Rajakumar" will take place on Sunday, March 18, at 2 pm in Klinger-Neal Theater a Q & A with Rajakumar and the student directors will immediately follow the performance.
The final event will be a public talk entitled "Making Rivers in the Desert: What Americans Can Learn Living Abroad". This event will focus on Rajakumar's personal experiences living and working in the Middle East and her belief in the value of such experiences as a means of understanding ourselves and the world around us better. This event will be held in UPS Auditorium on Mar. 20 at 7 pm.
During her fellowship, Rajakumar will not only be spending her time on campus but also out in the community.   On the morning of Monday, March 12, she will participate in a children's book reading and discussion about her own experiences with immigration and naturalization with various women's groups and ELL students at the Mary Treglia Community Ho
use.  On the morning of Friday, March 23, she will lead a K-12 "teachers as writers" workshop entitled "Dreaming in Plotlines: Turning Your Ideas into Books That Sell" for area educators at the Northwest Area Education Agency.  She will also be meeting with local press for interviews.
Rajakumar's fellowship is partially funded by a grant from Humanities Iowa. Dr. Christina Triezenberg, who has been serving as the grant's project director and working to coordinate Rajakumar's visit, is very thankful and said, "Humanities Iowa has been very generous to Morningside College, and we are grateful for their support and help in promoting our program."
All of Rajakumar's main events are free and open to the public. If you are interested in learning more about Rajakumar's visit, please contact Dr. Christina Triezenberg, Assistant Professor of English, via email at triezenbergc@morningside.edu.