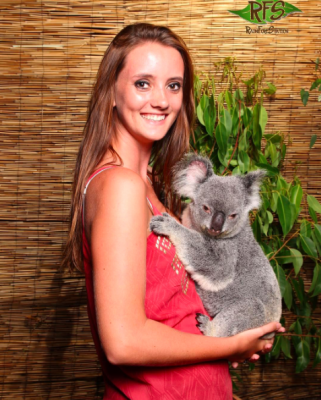 (02.26.2017) By Rachel Potter — Morningside College student Allie Vanhouten was the school's first student to study abroad in Australia, through a program called CIEE.
Vanhouten studied at Wollongon, New South Wales, Australia living in dorms with a roommate, also an international student, from North Carolina.
While Vanhouten was in Australia she took three classes, equivalent to twelve credits at Morningside. With the low workload Allie was able to stay on top of her homework and maintain good grades while also doing a good share of traveling.
"I spent a lot of time traveling up and down the east coast of Australia. Every weekend we did something. We either traveled to a different state or city or we explored the city we lived in. I was able to travel to three of the six states in Australia."
While Morningside has many students who study abroad, Vanhouten chose Australia for a once-in-a-lifetime opportunity.
Vanhouten said, "I wanted to study abroad because I had open space in my schedule. I love traveling so it seemed perfect. I wanted to study somewhere I didn't know if I would ever go to as an adult. Australia has been on my bucket list since 4th grade, so when I saw it as an option my heart was set on going."
Asked if she would recommend studying abroad, she said, "I would recommend studying abroad because it really allowed me to grow as an individual. I became way more confident in myself when I was abroad, and become more independent from traveling across the globe on my own and going somewhere where I did not know anyone. It was a huge learning experience for me and I was able to experience things that you can't experience in the states. I learned things that those individuals who have never studied abroad could really understand. It is also an experience of a lifetime where I literally made friends from all over the globe. If you ever have the opportunity to to travel abroad I highly recommend it."
If you are interested, Morningside recommends looking into study abroad opportunities.