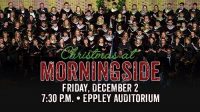 (12.2.16) By Jaden Lux–Christmas At Morningside is here again, bringing that same well-known holiday charm to the community tonight in Eppley Auditorium.
Students, community members, faculty, and staff are all preparing for what one student says is the most special Christmas At Morningside yet.
"Christmas At Morningside is special because of the individuals who are participating in it. This year is my last year, which makes it extra special and bittersweet. This event offers a unique experience to the Siouxland Community. We bring together a lot of talented people to perform a concert celebrating the holiday season," says Jordan Heim, a senior.
Johnny Culver, president of Alpha Psi Omega and a junior, is preparing for his third Christmas at Morningside. He had some good reasons for why people should come and see the spectacle.
"Come tomorrow because it's an opportunity for people to come together to hear a great message delivered through the beauty of music. Not only will people be able to hear some great music, but they will also be able to leave Eppley tomorrow night with a renewed spirit, and a brighter outlook on the world."
One Morningside student involved in the show, Johnathon Bowling, couldn't agree more with the qualities Culver described.
"I'm looking forward to performing amazing music with some of the people here who help shape me into the man I am today. I love them all dearly and wouldn't have wanted to do this with anyone else. We also get to sing a couple pieces with organ, which is always a treat!" Bowling said.
With the holiday cheer present, there is a somber mood looming among the students. This will be the final year professor Tim Watson will be directing the annual program.
Bowling reminisces on this and says, "He has been the choir director here for 14 years. I am so lucky to learn how to be a choir director from him. He's very intelligent, funny, talented and inspiring!"
"I think that will bring our performance to a whole new level of emotion and meaning," Culver agrees.
Included with Watson's direction is Dr. Shirley Luebke who will be directing the Choral Union and Bel Canto. According to Culver, the Bel Canto women's chorus has almost tripled in size from the year previous. A number of freshmen have joined both the College Choir and the Symphonic Wind Ensemble.
From what students are saying, they have put in the work to put on the show of a lifetime.
"We have spent almost all semester preparing for it. The biggest portion is before and after Thanksgiving. We have 2 to 4-hour rehearsals a few nights making sure the lights and microphones work. Then, some people will help decorate Eppley for a week during the afternoon," says Bowling.
Culver, with a feeling of excitement, says, "It's been a long week of rehearsals and decorating. I think I'm mostly ready for people to come see all the hard work that we've put into this concert."
Culver, who sees Christmas At Morningside as an event of healing, had one final message to those considering going.
"Our goal for this 21st Christmas at Morningside is to show people that hope, happiness, and good things still exist."
This is a completely free concert and open for anyone in the community to enjoy. The doors open into Eppley auditorium at 6:30pm and the holiday music begins at 7:30pm.