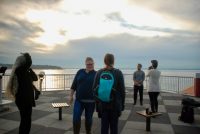 (11.21.16) By Alyssa Nehring–Each department at Morningside takes a great interest in exposing students to different experiences that expand their knowledge of life after the degree. Recently, three different departments on campus–the business, art, and biology/chemistry departments–extended various opportunities for students to step out in the real world.
The art department traveled to Seattle during the first week in November with the photo club members to attend the Society for Photographic Education (SPE) Northwest Regional Conference. The trip was not only about attending the sessions at the conference, but also giving the students the ability to photograph a whole new city.
"Dolie gives us 'free reign' to shoot what we'd like. This allows us to fulfill whatever our personal goals are for each trip," explains Niccole Wolken, a sophomore photo club member.
At the end of October, the business department took a group of students to the Collegiate Entrepreneurs' Organization (CEO) National Conference in Tampa. This conference was three days' worth of sessions on leadership and entrepreneurship, including a Morningside Alum as a keynote speaker. Joelle Kruger attended the conference.
Kruger is a senior, graphic design/advertising major. "At this conference I hoped to make connections for my freelance designing." Kruger did just that, finding a web design company that has given her graphic design opportunities.
As the secretary of E-Group, the Entrepreneur Group on campus, Kruger wanted to explore and learn about different ideas on how to improve E-group, making it more effective for the members.
This conference has more than just the experience of attending this conference. Josh Doering, a senior, entered in the CEO 2016 Pitch Competition with his product, the Seed Slide. The Seed Slide is a device that helps farmers to safely open and unload large seed boxes. A total of 60 students entered in the competition. Out of those 60, Doering was awarded first place for his pitch for the Seed Slide. This is an amazing honor for the Morningside Business Department.
The biology/chemistry department hosted the Center for Neurosciences, Orthopaedics & Spine (CNOS) Medicine Symposium Friday, Nov. 11 here at Morningside. This year the symposium discussed shoulder or other sports related injuries. Junior, Madi Reynolds says, "It was fascinating to hear the different perspectives on how the doctors diagnose the patient."
The symposium featured a discussion around an app called Fusionetics. This app works with people with various injures to design a workout plan to best suit their individual needs.
Each of these different opportunities allowed students the access to reach further into the world after graduation. These conferences expand students' knowledge of possible avenues for   life after graduation. Providing these different experiences is a big part of Morningside's goals.