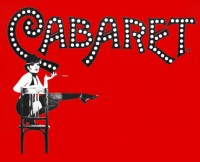 By Tasha Drey ~
The Lamb Arts Regional Theatre in Sioux City recently put on the musical Cabaret.
Said to be one of the best musicals of all time, Cabaret, tells the love story of an American writer, Cliff (played by Matt Rixner), and an English cabaret performer, Sally (played by Jessie Atkinson). The provocative story takes place in the Kit Kat Club in Berlin, Germany around 1931 before the Nazi's took control. The R rated show features familiar songs like Maybe This Time, Don't Tell Mama, and Cabaret.
The show ran from March 9 through April 1 and even featured a few Morningside students. Students, Alex Quinlain Courtney Ruff, Nancy Seeman, & Donny Short appeared in the show.
The next musical to be shown at Lamb Theater will be Suessical the Musical, which will be shown June 7- 24.