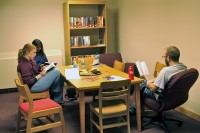 By Jazmine Dirks~ In a futuristic world, a young man and young woman are selected from twelve different districts to bring pride to their district in a fight to the death. Writer, Suzanne Collins's popular book series titled The Hunger Games came out with a bang in its first motion picture thanks to Lions Gate Entertainment and director Gary Ross.
Morningside Activities Council (MAC) gave out 240 tickets to see the midnight showing on March 23.
Sophomore Kayla Frey, has read Collin's first book in The Hunger Games series twice. Frey, who participated in the all day reading event held in the Learning Center and saw the movie says, "Although it didn't follow the book exactly, I was still impressed."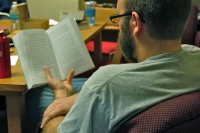 In anticipation of the showing, a reading of the first book of the series was held on the second floor of the Hickman-Johnson-Furrow Learning Center from 9am-6:30 pm.
Opening weekend the movie grossed $214 million, setting records for highest opening of a non-sequel film and biggest debut outside of blockbuster season. The movie is now showing at Sioux City's Carmike Southern Hills 12 Theatre, and the Promenade Cinema 14.
(Photos by Jazmine Dirks)