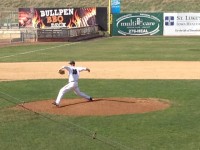 By Andrew Schnebel ~The Morningside Mustang's baseball team played in a doubleheader against Dickinson State Friday afternoon at Lewis and Clark Park. The sun was out and shining as the crowd of approximately two hundred came out and watched the Mustangs play.
The Mustangs dropped the first game 8-4. Storm Throne started the first game, he allowed eight runs, only four of them earned. The game was tied 3-3 going into the seventh inning, then the Blue Hawks broke open the game when they scored five runs to seal up the victory.
For the second game, Mustang starter Jeff Gacke went all seven innings allowing just two runs on six hits to pick up the win. Down by one run going into the sixth inning the Mustangs stringed together a couple hits and scored two runs to get the lead.
Gacke finished the Blue Hawks off in the seventh inning.
The Mustangs next game is Tuesday when they open up conference play at home against Briar Cliff. The game is scheduled for a 2pm start at Lewis and Clark Park.