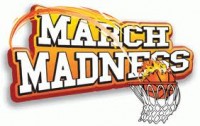 By Andrew Schnebel ~
Now that the first weekend of the NCAA tournament is down, many have already ripped up their brackets due to frustration. Friday was the big day when two number two seeds went down, but eleven other "upsets" occurred during the weekend. Not to burst any bubbles but there were no perfect brackets this year by anyone.
Starting in the east region, one seeded Syracuse fought off a close call to 16-seeded UNC-Ashville. The four teams that advanced to the sweet sixteen will be the matchups between the one seeded Syracuse and the four seeded Wisconsin. The other match up is between the two-seeded Ohio State going against the surprise sixth seed Cincinnati. The favorite out of this region is Syracuse, but anything could happen.
The Midwest region hurt many people's brackets, as there were six upsets this weekend. The number four through seven seeds all fell in the first round. This was one of the crazier regions with the sweet sixteen matchups between number one seed North Carolina against Ohio. The other matchup is between two seeded Kansas against North Carolina State. An ACC championship rematch would be an interesting elite eight between the two Carolina schools.
Moving onto the West region, the big first round upset was when number fifteen seed Norfolk State defeated number two seed Missouri. This was the first time a fifteen seed fell since Iowa State fell to Hampton in 2001. Michigan State breezed into the sweet sixteen and they will take on the Big East Champions Louisville. The other matchup is between the three seed Marquette and seven seed Florida.
The fourth and final region was the South, where overall number one seed Kentucky rolled through their first two games, setting up a rematch with four seed Indiana. Indiana defeated Kentucky earlier in the season on a game winning shot. Another fifteen seed pulled off the improbable upset when Lehigh knocked off two seed Duke, which made it the second two seed to lose in the first round. The other sweet sixteen game is between three seed Baylor and ten seed Xavier.
The next two rounds of the tournament begin on Thursday (March 22). The four regional sites are Boston, St. Louis, Phoenix and Atlanta. The final four this year will be held in New Orleans. The way the tournament has been going so far the likelihood of it being all number one seeds in the final four looks unlikely.