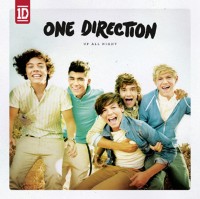 By Shelby Powell ~
If you haven't heard of One Direction yet, you will. 1D, as their diehard fans fondly know them, is a group of five young men that were featured on Britain's version of The X Factor. Concocted from the brain of Simon Cowell, known to Americans as the crankiest American Idol judge, One Direction has released their debut album to the shrill squeals of teenage girls worldwide.
Niall Horan, Zayn Malik, Liam Payne, Harry Styles, and Louis Tomlinson look as though they've been created in a laboratory from the fantasies of teenage girls. They embody every different type of man. One is blonde haired and blue eyed. Another has foppish dark hair and a crooked smile. One is chiseled and suave. Every girl can find just the right guy for her in One Direction. Their accessibility will only add to their popularity.
"Up All Night" is reminiscent of boy bands in times past. One Direction sings directly to that girl with no self-esteem. "You don't know you're beautiful," they sing in one song. These boys love everything about you, even if that boy in your science class doesn't. They apologize for past heartbreak and promise that you're the only thing they care about.
"Up All Night" has no real misstep. Each song is a prime example of pop mastery that any fan of catchy tunes will enjoy.