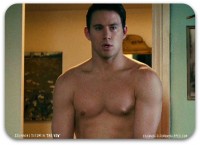 By Shelby Powell ~  What would you do if, in an instant, your spouse could no longer remember you? The Vow, starring Channing Tatum and Rachel McAdams, seeks to answer that very question. After a car accident, Paige's (McAdams) short-term memory is completely erased. She has no memories of her husband Leo (Tatum). Because he had vowed to love Paige for the rest of his life, Leo sets out to make his wife fall in love with him again. The Vow is based on the real life story of Kim and Krickett Carpenter.
Channing Tatum and Rachel McAdams are good enough actors but there isn't much that can be done with bland, archetype characters. Rachel McAdams plays her character as unsympathetic as it could get. Channing Tatum is the quintessential romantic leading man with chiseled abs and a winning smile. As it has been proved over and over again, attractive looks can only get an actor so far. The Vow recycles some of the genre's most clichéd plot twist so it's nothing new.
If you're looking for some light viewing to enjoy with a significant other, The Vow is the movie for you. If you're looking for the next Citizen Kane, make sure to steer clear.