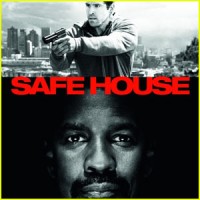 By Shelby Powell ~ Matt Weston (Ryan Reynolds) is a recent CIA recruit stationed in Cape Town, South Africa. He spends his days wishing for more action and maintaining an unused safe house for wayward agents or captured criminals.  Matt gets a lot more than he bargained for when renowned CIA agent turned traitor Toben Frost (Denzel Washington) is brought into his safe house. Faced with the violent foes from inside and outside of the CIA, Matt and Toben embark on a pulse-pounding race against the clock.
Denzel Washington is phenomenal in his standout role as the CIA agent who rewrote the protocol on interrogation. Toben Frost is a character that is reminiscent of Washington's Academy Award winning turn in Training Day. Washington excels at playing this excessively cerebral character, showing just why he is such a sought after actor. This could have been a one-note character but Denzel Washington portrays Toben Frost as a multi-faceted man pushed to the brink of capacity.
With an actor as talented as Denzel Washington manning the helm of the film, the other players had to play catch up. Ryan Reynolds a decent actor, infinitely more attractive than he is talented. Playing any emotion that isn't cockiness is difficult for him. Nora Arnezeder, a French up and comer, plays Reynolds love interest. Mercifully, she's kept off screen for the majority of the movie. The supporting cast, including Vera Farmiga and Sam Shepard, do as well as anyone could expect.
Safe House is a great addition to the spy thriller genre. It won't win any major awards or accolades but it's a nice piece of escapism that Denzel Washington can add to his resume.