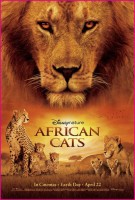 By Miranda Christian–
I rate African Cats five out of five stars. The movie fits all age types as Disney takes us through a wild adventure with two mothers, a lion and her cub, and a cheetah with five newborns. The movie is narrated by Samuel L. Jackson, whose voice is the perfect tone for these families journey.
Although people who love to watch the Discovery Channel will enjoy the facts and history in the film, the film is fit for any age group. The G rating keeps it from being too scary, yet still supplies children with the facts of life and death.
The struggles these mothers face to keep their cubs alive relate to our human emotions and keep you on the edge of your seat as they fight to survive in the wild. I felt connected to these families the entire movie. The movie would be a great bonding time for mothers and their children, no matter what age.
It took two and a half years to shoot the movie and some of the shots they got were breathtaking. It is easy to appreciate the hard work that went into the movie. Disney also has put out an Earth and Oceans movie, African Cats might be my favorite of all three because of the connection you feel with the mothers. If you don't get a chance to catch this movie in theaters then you won't want to miss it when it comes out on DVD.