By Gustav Hollnagel–
The Morningside men's tennis team was really busy last weekend. They played two matches on the road in Mount Vernon on Saturday, and one against Briar Cliff on Sunday to finish up the regular season.
Morningside lost both matches in Mount Vernon on Saturday after arriving Friday night to get sufficient rest before the meet. The Mustangs were defeated 7-2 by Cornell College in the early match. They then lost to Dubuque University (3-6).
Even though Mount Vernon is about five hours away, the team agreed that was not the reason for the loss. Cornell and Dubuque just have more established programs than Morningside.
In retrospect, junior James Nitz said, "I really didn't like the drive. But the bonding experience that we had was awesome. We played all right but we probably could have won one of the meets."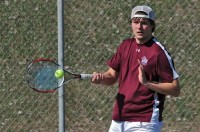 The two wins against Cornell came from victories in singles by Austin Grundy (6-3, 6-1) and Gustav Hollnagel (6-3, 7-6 [7-2]). Sam Doerr posted a great victory in his singles match against Dubuque (3-6, 6-3, 10-8). The other two wins against Dubuque came from Rosen-Hollnagel in doubles (8-5) and Hollnagel in singles (6-1, 6-0).
During the match against Cornell, Austin Grundy passed coach Larry Mason in the record books for most singles win in a season (formerly nine – ten after Saturday).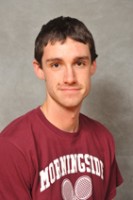 Grundy said, "I had an idea of where I was on wins but didn't know I was already that close. I was surprised that I broke the record so soon as a freshman." The next day, Grundy improved his record to 11-5 (in the spring) when the Mustangs swept Briar Cliff (9-0).
The Mustangs are now at a season standing of 5-11 (3-4 GPAC) and will play Concordia University in the first round of Friday's GPAC tournament.
Grundy looks ahead on Friday's matchup: "I'm very excited about the conference tournament. Concordia being my only conference match lost in the season, I'm hoping I can do better against them this time around to win the GPAC player of the year."
Nitz agrees. "Were ready to "kill" some people in the tourney coming off that win over BC. Good times lie ahead." The Mustangs can prove Nitz's prophecy at 10 A.M. down at the tennis courts in Fremont, NE. In case of rain, the matches will be held in Lincoln, NE.