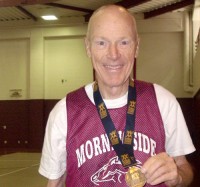 By Abby Bull–
Bob Edlund is an extraordinary man whose love for basketball has kept him an active member of noon hoops in the HPER for years.  Don't let his 75 years of age fool you; Bob has been a regular at noon hoops since 1998.
Bob said, "Playing noon hoops has led to great friendships.  We always have fun and even though games can get intense we are all friends in the end."
Bob's love for the game of basketball goes back much further than noon hoops.  He played for one semester at Bethel College in St. Paul, Minnesota, before transferring to Morningside.  Although he didn't play competitively while attending Morningside he stilled loved to play pick-up games and graduated from Morningside College in 1961.
Asked about his favorite noon hoop memories, Bob replied, "It would probably have to be my 75th birthday.  I believe it is better for a person to give than to receive so I made all the regulars a sack of presents.  I had T-shirts ordered that said NBA (Noon Ball Association), a specialty card for each player with their picture and nickname, and a motivational sermon on DVD for the guys to listen to."
Besides being known for his charismatic personality, Bob is known as a well-rounded man all together.  His accomplishments in life range from being a former member of the Army Reserves, playing basketball with legends such as Kirk Henrich and Greg Kite, to having a successful career, happy marriage, and lovely family.
Asked to play in the World Masters Game, which is similar to the Olympics for people 45 and over, Bob won two second place medals.  Even though he was one of the oldest players on the team, Bob didn't mind at all and he made memories that will last a lifetime.
Amazed by his outstanding physique and figure, I asked Bob how he stays in such good shape?
Bob laughed and said, "The key to staying in shape is to never get out of shape."
One of the regular noon hoopers, Pete Olsen said, "If I can move like Bob when I'm 75, I'll be pretty happy!"
All the regulars at Noon Hoops enjoy their time with Bob and say he known for his amazing "sky hook" shot.
Head swimming coach Steve Motts said, "Bob is really impressive and I am humbled by his skill and tenacity on the court.  He will get rough and tumble with anyone and let me tell you he is one strong guy!  It's just really neat to play with Bob knowing he is such a classy man who is so giving to everyone."
Bob Edlund is a memorable guy and an inspiration to all.  He goes to show how hard work and dedication can keep people active as long as they desire and I know Bob Edlund with be a Noon Hooper All-Star for life.