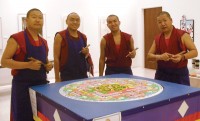 By Abby Bull–
For the fourth year in a row, Morningside College hosted Buddhist monks from the Garden Shartse Monastery Sacred Earth and Healing Arts of Tibet. Students and members of the community watched as the monks created a four-day prayer mandala.
Using a chukkug, which a tool used to create sand mandalas, the monks worked on their intricate design, which represented Buddhist wisdom.
Tengyl, one of the Buddhist monks, said, "Before we start making the sand mandala first we choose a design and draw it out on the table. Then we spend hours creating the sand mandala in hopes of blessing those around us and creating art for everyone."
The four-day long process is followed by a unique dissolution ceremony where they pray and chant and brush the sand into the river. They keep small portions of sand for people who want it, but the ceremony represents the monks' belief that nothing in life is permanent.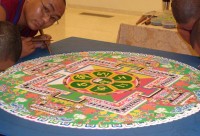 Tengyl said, "My favorite part about being a monk is reading prayers and chanting at our dissolution ceremonies.
All the monks who visited live in a refuge in South India but most are originally from Tibet. In Tibetan culture there is usually one child in every family who joins the monastery at a young age. Once you join a monastery you are allowed to leave, but if you do you are not allowed back in.
Tengyl said, "I really enjoy being a monk and will never leave the monastery. I joined the monastery when I was 11 years old and have been there for 17 years. My entire family lives in Tibet and I am only allowed to talk to them over the phone due to political controversy, which at times can be hard. I am excited to be in the United States and to travel making sand mandala's and to represent our monastery."
Tengyl also talked about the importance of the monastery he belongs to and how grateful they are for donations. The money is useful because as soon as a monk enters the monastery the school provides all the necessities one may need, such as daily food and educational supplies.
If you were unable to attend the making of the sand mandala on campus you can still donate by going online to www.gadenshartsetour.org.