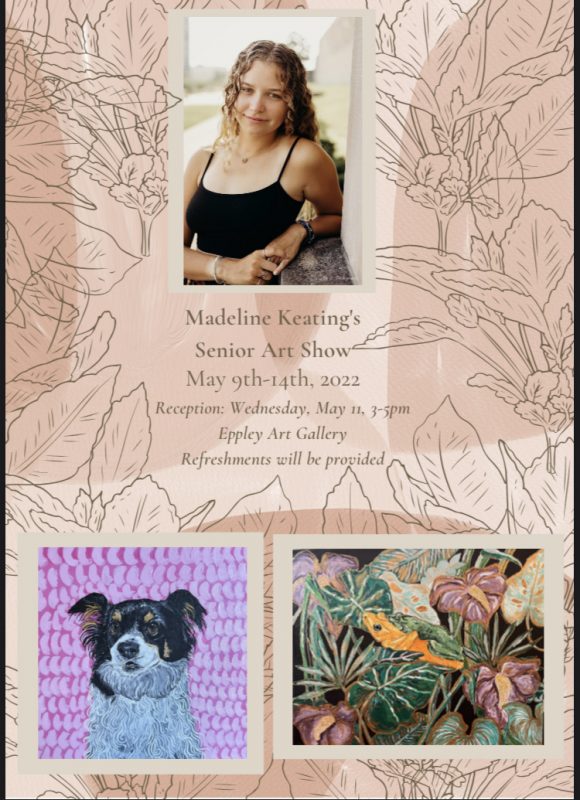 Payton Miller- Madeline Keating has brought together a culmination of her art to showcase her time at Morningside University. Her pieces include animals from the natural world accompanied by brightly colored lilies that cover the canvas.
"You can see that in most of my pieces I include lilies. The show kind of centers around my hyper fixation with them." Keating said. Keating spoke about her love of the flower and its beauty.
While her medium of choice is painting, she has experimented with an abundance of mediums throughout her time here and many can be seen on display at the show next week.
"I've tried various media throughout my time here and because of that I've been able to create one cohesive show that I am very proud of," Keating said.
Keating is originally from Overland Park, Kansas and originally came to Morningside only to study History. "After being here and taking some art classes I decided to add studio art as my second major," Keating said.
Throughout her time at Morningside Keating has been successful with her art having it displayed in the literary and art magazine at Morningside, The Kiosk. A copy of which will also be on display at Keating's show. Keating's art will be on display for anyone in the Eppley Art Center from May 9th through May 14th with a reception to be held on May 11th from three to five pm. Students and community members are encouraged to come and see Keating's work from her time here