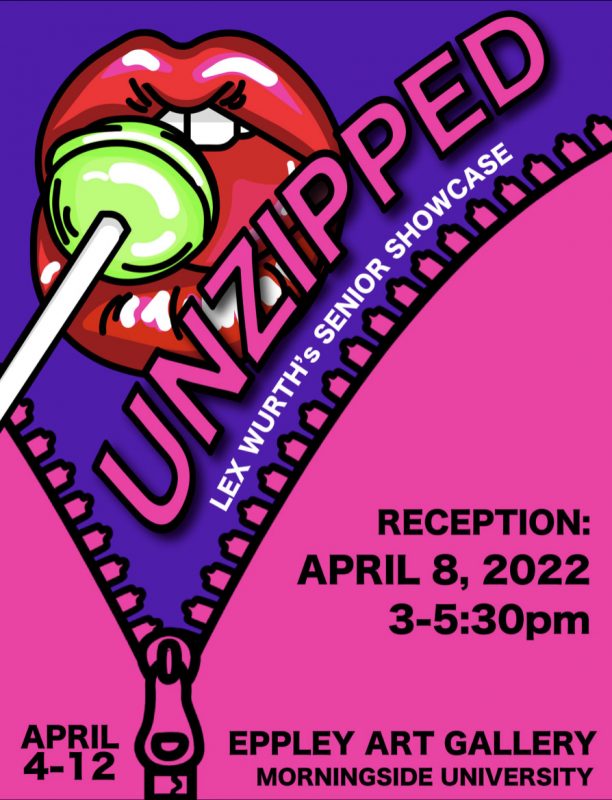 by Payton Miller–Lex Wurth, a senior at Morningside University, presents her senior art showcase, Unzipped. "Unzipped focuses on Human Sexuality, Sexual Health, and Sex Education." Wurth has said of the intentions of her showcase.
The show consists of work Wurth has put together throughout half her junior and all of her senior year here at Morningside. It consists of marketing campaigns, educational materials such as anatomical illustrations, and business models for a sexual health clinic. Wurth hopes to "Bring awareness to the need and necessity for a comprehensive health education in society."
Sexual education is a topic that not many dare to tackle due to the stigma surrounding it. Wurth has worked hard to create a show that is suitable and accessible to everyone. For those considering stopping by, Wurth has said "People should come to have fun, learn. I don't think anyone should be afraid to come just because it's an intimidating topic."
Wurth is originally from San Antonio, Texas, and moved to Sioux City to pursue higher education in her chosen field of study Graphic Design after transferring from another college. Along the way she developed a passion for educating and informing others about sexual health and teaching people that "sex is not a bad word."
This show is one step towards opening up the conversation on sexual and reproductive health.
"Starting the conversation about these subjects is the first step in destigmatizing them."
You can catch Lex Wurths Senior art showcase beginning Monday, April 4th through Tuesday, April 12th at the Eppley Art Gallery. The reception will take place Friday, April 8th starting at 3:00 until 5:30 pm. Spectators can come not only to see Wurth's passion for educating society on sexual health but also her growth throughout her time here at Morningside University.