By Kassidy Hart– Morningside's newest club, Dorms & Dragons, offers both familiar players and new players a chance to get involved in the popular role-playing game Dungeons & Dragons (D&D) with a community of fellow gamers.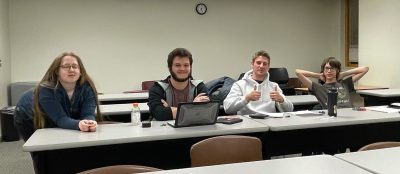 For those unfamiliar with D&D, players create a character, or adventurer, and team up with other players as they go on various adventures, which may include dark dungeons, haunted castles, and lost temples in the jungle. During these adventures, players must work together to solve puzzles, battle monsters, talk to other characters, and discover treasure.
"The game is ultimately about communal story-telling and community," Associate Humanities Professor David Elder said. "The biggest goal for me for the club is that students either find a lifelong hobby or just find a community to continue the hobby that they love."
The club had its first meeting on October 24th, 2021, at 6:30 pm in the Hickman-Johnson-Furrow Learning Center. The students in attendance were a mix between experienced players and brand-new ones.
"We thought it would be something to bring students together on campus in these times while many students are struggling to make the connections that we know to be a part of the college experience," senior and co-founder of Dorms & Dragons Darrian Adkins said.
To start the meeting, Elder, one of the club's dungeon masters (DM), had 45 sets of dice for students to choose from. Then, he led the students in creating their own character to role-play as. From there, the club divided into campaign groups, to coordinate working times they could get together and play.
"Elder runs a group on Sunday nights in the library from 7 to about 9 and I run a group on Mondays and Fridays in the library at the same time," Adkins said.
By meeting consistently to play and creating bonds with other like-minded students, what starts as a friendly adventure game can turn into lasting friendships and a life-long hobby.
"To this day, I still play with my buddies every Wednesday on Zoom, including Dean Stevens, who is our dungeon master," Elder said.
One experienced player, junior Kaelin Armstrong, looked forward to going to the meeting just to get started in playing the game again. She played with friends in a small group last year, and then again, this year, up until September when they found too many conflicting issues to continue making it work in their schedules.
"I really love the idea of D&D and getting to be free like that, so I wanted to join because I missed that freedom of being creative with my friends," Armstrong said.
The creation of the club was rooted in the simple enjoyment that playing the game with others brought, but also was appealing that it could create a more accessible way for people to get started in the game. Even though the hobby is rather cheap to get into, it still requires different guides and handbooks to get the full experience.
"I thought that with a club, we could have access to resources otherwise not available to us. Maybe we could get core rulebooks for those that participate," Adkins said.
The club is not sure what the future holds for them, but Armstrong and other players are hopeful that there will be plenty of opportunities to be creative.
"There was mention of possibly making our own dice or making and decorating minifigs, which sounds like a really, really cool thing!" Armstrong said.
If interested in joining, students should contact Professor Elder at elderd@morningside.edu or Adkins at dwa003@morningside.edu.
"If you need a break, you should consider joining. If you enjoy stories, you should consider joining. If you enjoy imagining a different world, you should consider joining. There are lots of reasons that you should join but the biggest reason is to be a part of something incredible and to make friends doing something that you can really make your own," Adkins said.