By Emily Rotthaler– After skipping the annual tradition of the edible books contest last year, the team at the Hickman-Johnson-Furrow Learning Center has determined another winner last week.
In competition with three other entries, the Department of Mass Communication's assistant administrator Joan Mansfield prevailed. Her winning showpiece was based on the children's book "The Little Ghost Who Was a Quilt" and consisted of cake and rice krispies covered by chocolate frosting and fondant.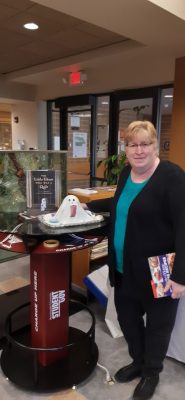 Mansfield competed in the contest for the first time this year. To get inspiration for her entry, she went to Barnes & Nobles, and it was there that she found the right book. Mansfield said, "I decided it was the one that I wanted because I'm a big quilt person."
The other three entries of the contest were created by Professor Annie Moore, student Lex Wurth, and staff member Jordan Epp.
Karen Wascher, circulation manager of the HJF learning center, is part of the team hosting the contest. She said, what she enjoys most about the contest is to see how creative people are.
According to her, it was a little harder than usual to find participants for this year's annual contest because "not everybody remembered what it was about" after it didn't take place last year due to the pandemic.
Already planning ahead for next year, Wascher said, "We're working on ways where we can hopefully get a few more participants and make it a little more accessible to students." She added that any member of the Morningside community can enter the contest and show their creativity.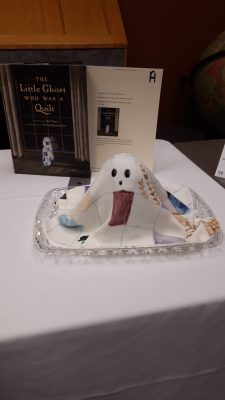 This year's edible books contest marked the 6th time Morningsiders have competed to be picked as the creator of the best edible showpiece. The tradition began in 2015 when reference librarian Holly Schettler brought it up as an idea to get more people to visit the HJF Learning Center.
Shettler got the idea from another public library that hosted an edible books contest on April Fool's Day. Because April 1st is too close to finals, the team at HJF Learning Center decided to turn Morningside's contest into a Halloween tradition.
As for the nature of the edible showpieces, Wascher said "Entries can be tributes to, inspired by, or puns of a written work." She added that it doesn't have to be a cake.
The decision of who deserves the win is made by students, faculty, and staff. Before deciding on their favorite, voters have time to look at the entries and read about the idea behind them. The creators remain unknown until the prize ceremony at the end.