By Kassidy Hart– In the running for the best fall drink, pumpkin spice has always seemed untouchable. But in reality, that is not the case. A Google survey was sent out across campus to find out how many people actually liked the seasonal pumpkin-flavored drinks. Out of 160 people, 60% of those gave the infamous flavor a 5 or above on a 0-10 rating scale. The other 40% of participants rated the it a 4 or below.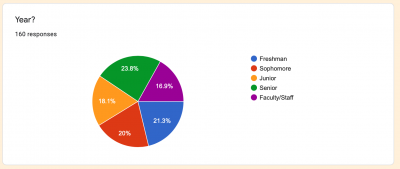 Those that said they enjoyed the infamous fall flavor for coffee surprisingly shared an abundance of places that have the best pumpkin drinks. The most popular place to order a classic pumpkin spice latte from is, with no surprise, Starbucks.
The other responses for the places with the best pumpkin drinks included: Caribou Coffee, StoneBru, Kum & Go, McDonalds, Dutch Bros, Scooters, Dunkin Donuts, Nightingale Coffee, Spoonholder Café, hometown coffee shops, and even at home. Some respondents even listed multiple go-to places.
"Starbucks and Scooters have really good fall drinks. At Scooters, I order a pumpkin carmelicious," one pumpkin lover, sophomore Payton Sauerbrei, said.
Other pumpkin drinks that are some of the campus' favorites included: pumpkin cream cold brew, pumpkin chai tea latte, and pumpkin spice frappucino.
Not only was the survey asking for opinions on best pumpkin drinks, but it allowed other favorite drinks or treats for the season to be shared. Super fan of the seasonal pumpkin flavoring, junior Jason Simcoe, marked the pumpkin spiced drink with a 10/10 rating, but also emphasized that he enjoyed a classic "pumpkin loaf" during the season.
A couple respondents even mentioned their distaste of the drink flavoring but enjoyment of certain pumpkin treats.
History professor, Greg Guelcher, rated the drink a 1/10 but his favorite fall treat was "pumpkin pie, strangely enough."
Other pumpkin treats amongst respondents were pumpkin bars, pumpkin muffins, pumpkin cake, pumpkin pie, pumpkin cookies, pumpkin seeds, pumpkin bagels, and pumpkin poptarts.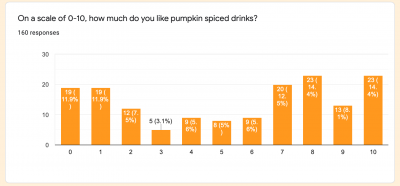 Despite 60% of respondents enjoying pumpkin spice, 40% preferred other flavors to the popular pumpkin. The second most-liked fall flavor was proven to be apple.
Junior Aubrey Cervantes said that she will drink pumpkin flavored drinks but "actually prefers apple."
The apple drinks those respondents enjoy included apple cider, apple macchiatos, and apple lattes.
Other than apple drinks, these apple treats were some of campus' favorites: apple pie, apple crisp, caramel apples, apple scones, and apple danishes.
Other than apple flavoring, other fall drink flavors were suggested. Senior Ashley Koopman loves "toffee caramel" and Executive Chef, Nick Gunn, is a fan of "Warm Andes Mints cocoa or coffee."
Other fall drink flavors amongst the others suggested: crème brûlée, maple, pecan, marshmallow, toffee, apple cranberry, cinnamon, caramel, maple vanilla, brown sugar, and salted caramel.
Hot chocolate and hot tea were also favorite drinks listed.
A long list of other fall treats was given as well. Advancement Services Manager, Karen Dreessen, said some of her favorites are "Mom's Jello Popcorn Balls" and "Chili and Cinnamon Rolls."
The rest of the list is as follows:
Snickerdoodle cookies
Pecan pie
Deer meat
Cinnamon sugar donuts
Candy corn
Seasonal DQ blizzards
Plain and chocolate croissants
Homemade chocolate chip cookies
While some respondents embraced the idea of trying new fall drinks, others have decided they will stick to what they know they enjoy.
"I have never had a pumpkin spice drink and do not plan on it anytime soon," Senior Chase Boeve said.
And as fall begins to turn into winter, the preference of drinks and treats may change amongst those who like the advertised seasonal drinks.
"I like the apple cider macchiato at Starbucks right now. I like the peppermint mocha around Christmas time," Director of Field Placements, Caroline Larkin, said.
Others, like Sophomore Caleb Lubbers and Dean of the School of Visual and Performing Arts, Heath Weber,choose to remain constant with their all-year-around favorites.
While Lubbers attributes this to his drinking habits remaining consistent, saying "I don't change my drink habits for seasons," Weber enjoys just a simple cup of a coffee.
"I love coffee in general. I don't need as many extras to get that delicious, caffeinated elixir in my belly," Weber said.
Despite the dispute of which drinks are better during the fall, campus agrees that the cold weather brings a desire for warm drinks and treats that are used to keep an uplifting mood as we prepare for the semester to come to a close.