By Kassidy Hart– As the weather begins to cool down and routines have set in, students will be looking for fun, weekend things to do in Sioux City. One of the hidden gems of the city is the Sioux City Farmer's Market.
Located just west of the Tyson Events Center, the market is open every Wednesday and Saturday from 8 a.m. to 1 p.m. Some of Morningside's faculty and staff members are regulars and would encourage students to check out out the local vendors before they close at the end of October.
Associate professor of physiology, Dr. Aaron Bunker, says that he stops by the market every Wednesday on his way into work to grab a drink from Nightingale Coffee.
"Nightingale Coffee, hands down, has the best coffee in town! And I've drank coffee while traveling to places all over the world like Greece, Peru, and Guatemala," Bunker said.
Bunker also occasionally goes to the market on Saturdays with his wife and his 7-year-old son. When they are there, they look forward to buying food from Brightside Café or Coffee and Nosh as well as fresh vegetables from a variety of vendors.
Admissions Counselor, Steven Ricke, is another faculty member who enjoys attending the farmer's market. Unlike Bunker, however, Ricke goes on an occasional basis to support local businesses. He and his family have also been drawn to purchasing home grown produce while stopping by the market on Saturday mornings.
"Jellies and jams are a popular item at our house, along with the local restaurants serving some of their breakfast items," Ricke said. "And seeing all of the puppies is a big hit with [my daughter] Charlotte."
Both Ricke and Bunker have attended other farmer's markets in larger cities but find Sioux City's to be a more enjoyable experience because it's not as overwhelming.
"I like Sioux City Farmer's Market because it is just about the right size – not too big or too small," Bunker said. "Even on Saturdays when it is busy it feels nothing like the huge one I went to in Omaha. That one was more like a festival than a Farmer's Market."
Students who have gotten the chance to spend some time walking around the market, have also found the experience to be enjoyable. Junior Devyn Reilly went for the first time with a friend here in Sioux City after attending one back home a few times.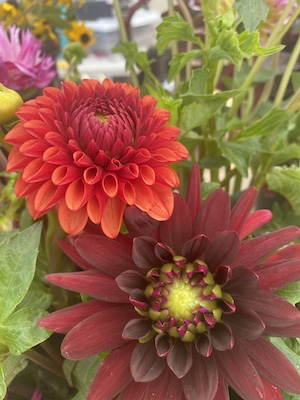 "I enjoy going to the farmer's market because of all the unique vendors that are there and all of the small businesses around the community. I am not from Sioux City or Iowa in general so seeing some of the small businesses around the community is really nice," Reilly said.
Reilly's main reason for going was to visit one of her favorite vendors, Coffee and Nosh, but she was impressed by the flower vendors they had as well.
The Farmer's Market is not only a supporter of small businesses but allows the opportunity for a Morningside student to intern with them through Tyson Foods each summer. Junior Lucy Preugschas was their marketing and social media intern this past summer and recommends her peers to check it out, despite the early wake up time.
"I'm gluten free and they have a lot of vendors that can accommodate that. I also love to pet the dogs people bring by. One of my favorite things to do is talk to the vendors because they all have such great stories and a lot to offer in conversation," Preugschas said. "There's a lot here that people can look at and enjoy so I would definitely recommend that everyone come and check it out at least once."
On October 9th, they are hosting Fall Fest and Preugschas encourages students to mark it on their calendar to check out the fun things they have planned for the day. These things will include a kid's costume contest, dog costume contest, goat yoga, a kids' activity booth, and a few other activities.