By Kassidy Hart–To commemorate the twentieth anniversary of the 9/11 attacks on the US, Morningside Student Government held a gathering in remembrance of those who had fallen that tragic day.
"It is important to remember we are all Americans and we all are bonded together in this country, no matter where we are in life. Those families that grieve every year should know that Morningside stands with them and the rest of the country in saying we are sorry for your loss and we are here for you always," sophomore and main planner of the gathering, Christian Leonard, said.
About thirty students and faculty members met on the "M" to listen to President John Reynders share what Morningside was like that day and pray with a pastor. Then, all those in attendance took part in two minutes of silence, representing the two towers that had fallen, and ended the gathering with the National Anthem.
"We wanted to make it an intimate small gathering at a central location on campus. We added the flags around the 'M' for a special touch," Student Government secretary and co-planner of the event, senior Hannah Capps, said. "We wanted to make sure the event would have an impact and students would come."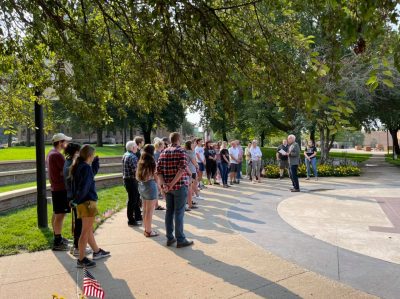 To personalize the gathering with student involvement, junior Charity Muller sang the National Anthem to conclude the gathering. After accepting the opportunity from Dr. Nannestad, associate professor of music education, Muller, who has been invited to sing the National Anthem at other events before, thought this would be a similar experience. It wasn't until she reflected on the date and what it may mean for people that she really understood her role in this remembrance ceremony.
"This opportunity was going to be one I was never going to forget. I became nervous, which hadn't happened in a long time, since I had become so used to singing the anthem," Muller said. "After I finished the last note, that's when it hit me more that this meant so much more to people than I ever thought it would."
This year was especially important to take time to remember those who died in the tragic attacks twenty years ago because most Morningside students had not even been born when it happened. By holding this gathering, students were able to experience the emotions of others who could remember the date and saw their reflection of how it changed their lives.
"To me, 9/11 really never had a significance because I wasn't old enough to remember anything. However, I can always associate the day with other people's emotions. The feelings of grief, anger, and confusion all over the country," Muller said.
This was the first time Morningside held a remembrance gathering for the event and, due to the success of it and the impact it made on students, many hope that Student Government will make taking a moment of silence and reflecting on the date into a tradition.