by Emily Rotthaler-This spring semester, Morningside College's cafeteria has been displaying peculiar contraptions of plastic, white light, and plants in the entrance of the student dining hall. The Tower Gardens, as these contraptions are called, is a project realized by the Agriculture and Food Studies Department and supply fresh and sustainable produce to the cafeteria.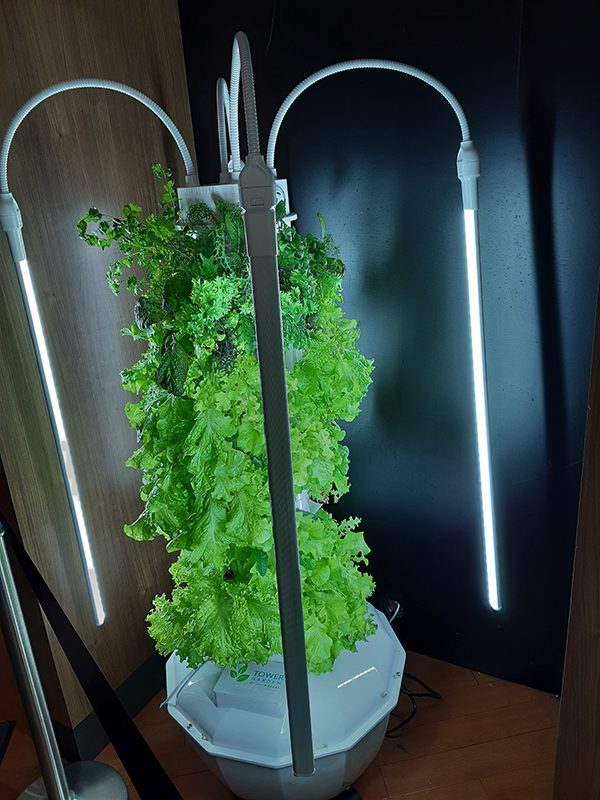 The towers, which are currently overseen by adjunct faculty member Deanne McKenna and garden intern Roger Freese, are based on a soilless hydroponic system. Instead of receiving nutrients from the soil, the plants uptake them through a solution that is put into the water in the bottom of the towers.
According to Dr. Thomas Paulsen, head of the Applied Agricultural and Food Studies Department at Morningside, this is an extremely efficient and sustainable way to grow produce as the towers do not waste a lot of water.
Another advantage of the tower gardens is the variety and quality of produce. The towers can hold about 150 different crops like lettuce, parsley, and mustard firms. Paulsen further said that so far 90% of the grown produce has officially been certified organic and the agriculture department is striving to make it 100%.
He added, "Everything is very healthy, very safe, and probably safer than what you can get from other places because it is local, you harvest it when you need it and it is grown in a controlled environment."
Executive chef of Sodexo's on-campus cafeteria, Nicholas Gunn, has processed and tried some of the produce grown in the tower gardens. He said, "I would say it's better quality than what we bought because it's got flavor. Most lettuce you'd get that's commercial lettuce really doesn't have much flavor to it."
So far, there are only three tower gardens around campus but the Agriculture and Food Studies Department is planning on getting twenty more towers for the new greenhouse in fall. The goal with the new towers is to have produce ready to harvest and process every week.
Regrowth takes about two to three weeks. Paulsen said, "If you harvest every week, with a third of your towers, you're going to have quite a bit of produce and you're going to consistently always have produce."
As soon as all the towers combined make enough produce, the greens grown in the tower gardens are planned to become a fixed component in the food served in the cafeteria. Until then, whoever wants to try some produce can most likely do so this week, as Gunn said the cafeteria is going to have some at the salad bar.