by Abby Koch-Warmups start with simple resistance band squats with partners holding the tension taut. Each volleyball player within the weight room had visible signs of early morning underneath their eyes. Despite the early wake up time and walking to the weight room before sunrise, each player counts on one another to show up and make the right decision. Especially with the threat of COVID.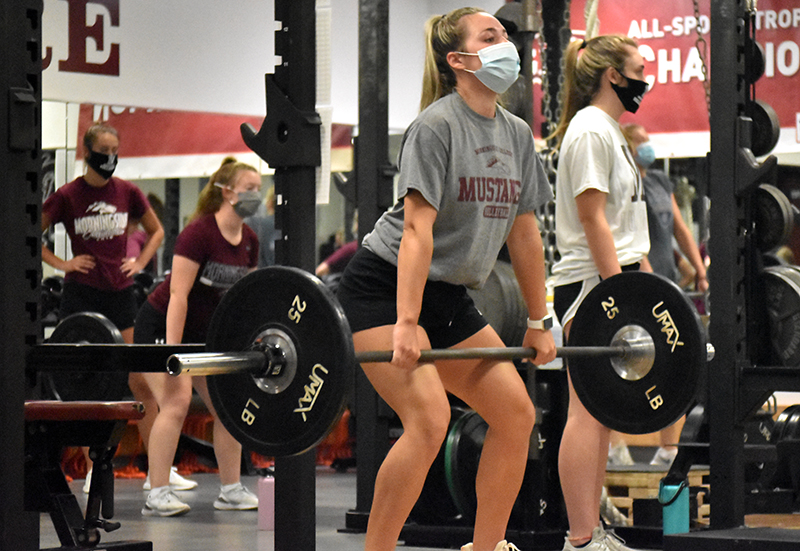 "A typical practice day, we get in there they take our temperature and then we wear masks in the locker room getting ready. You wear a mask everywhere," explained Ashley Boer, a senior and a team captain on the Morningside women's volleyball team.
Before any Morningside athlete walks in to the weight room to complete their team lift, they are screened by Strength and Conditioning Coach Aaron Jung. Athletes in the weight room are also required to wear masks for the duration of their lift.
Every athlete position into a front squat sequence on their platforms, elbows flared out and feet shoulder width a part. Each athlete starts with multiple sets of five empty barbell front squats and Romanian deadlifts. Resting lifting partners pinch their masks off their face for better air flow on the side of the platforms, watching the other complete their set.
Boer quickly went through her reps, placing her barbell on the platform to scramble and move plates onto it with her lifting partner. Players know how vital their time in the weight room is, especially with the talk Coach Jung gave them. Now is the time to improve to be better for the next game.
The team traveled to face Doane University for the first official game in early September, the first one they had in months. The women Mustangs made a push, going through five sets against the Tigers, but lost 3-2. They would return to their home court two days later to face their cross-town rival, Briar Cliff University.
"There was a ton of emotion," said Boer with a wide grin on her face, thinking back on that first game "You're excited, but you're nervous since it was the first time playing since November. It was really fun! Obviously if you looked at the scores, our first game was five sets. We fought that whole day and it was just nice seeing that because we haven't actually played against a team in a while. Seeing how we react in those situations was awesome to see again. I'm really happy how we played."
The road back to the court was an experiment for players and coaches. Great Plains Athletic Conference (GPAC) announced collegiate teams would return to playing sports again, with their guidelines to battle COVID. Morningside went to work on figuring out their own plan to better their athletes and still protect them from COVID-19 exposure.
Coach Jung immediately had concerns coming into the year about how to manage his weight room during a pandemic. The first big issue Coach Jung had to face was scheduling, due to socially distancing the players within the small space. "How many sessions in a day am I going to do? I mean, football has over 160-150 kids. That's a lot. That's a lot of hours," said Jung.
The other issue Coach Jung faced was how to handle programming, or the workouts, of players. Within the time athletes work out, a lot of the equipment is being touched and social distance can't be achieved.
Summer break allowed Jung to figure out his plan to keep athletes safe: shorten lifts to allow cleaning time, masks while lifting, and pre-lifting screening.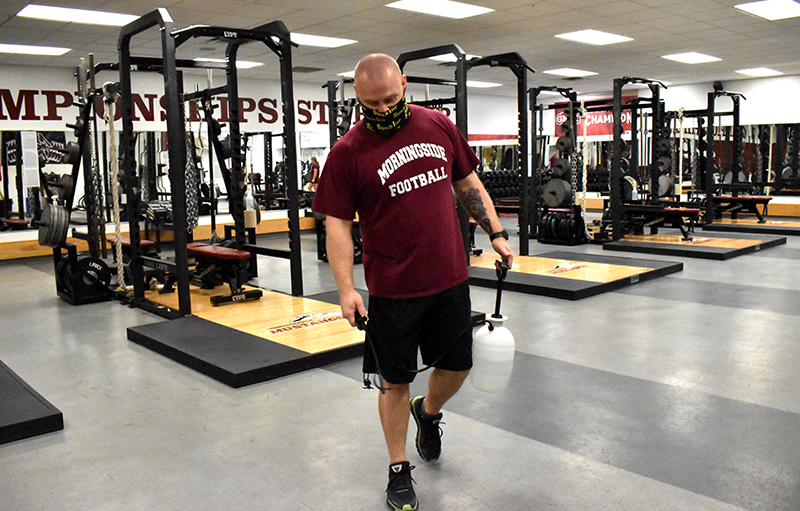 "These kids want to have a season. With that being said, they are going to do everything in their power to have one. Whether that be restricting from extracurriculars during the weekend, things like that," said Jung, "We're not dumb as coaches, we know what goes on in a college setting. Over half of us probably played in college, so we know what is expected. But it's still going to happen. You can educate them and say hey, look if you want a season to happen, you want this to actually be a thing, then you have to do your part and help out as much as humanly possible."
Boer is keeping a good attitude with the direction and COVID guidelines that GPAC and Morningside put out. She feels lucky to still have a season since some schools had cancelled sports for the year due to COVID.
Practices for the team this year have them washing their hands after every drill. These practice breaks to wash their hands became known as BSWs: Break, Sanitize, and Water. The term originated when Head Volleyball Coach Jessica Squier was tired of writing the phrase during team meetings.
Squier had one main concern coming into the season about what the guidelines would look like for the team. She was comfortable with the actions that Morningside were taking, like with wearing masks and sanitizing volleyballs. Squier has a bigger concern to figure out what the CDC and statewide guidelines was a bigger concern.
Watching how the Iowa high schools returned to sports over the summer became a guide for the head coach. "We watched softball and baseball for high school in Iowa to see what happened if somebody were positive and what those protocols were going to be in the county," explained Squier, "[Both] determined how we were going to attack preseason and our season with how we were going to handle things. I felt confident with just kind of watching what other counties were doing and what made our protocols safe."
"COVID is kind of like when you're driving," stated Coach Squier "You can take care of you. You can wear your seatbelt. You can use your blinker and double check your blind spots, look either way when you're crossing the road. But at the end of the day you could be the safest driver, but you can't control the car that's coming across."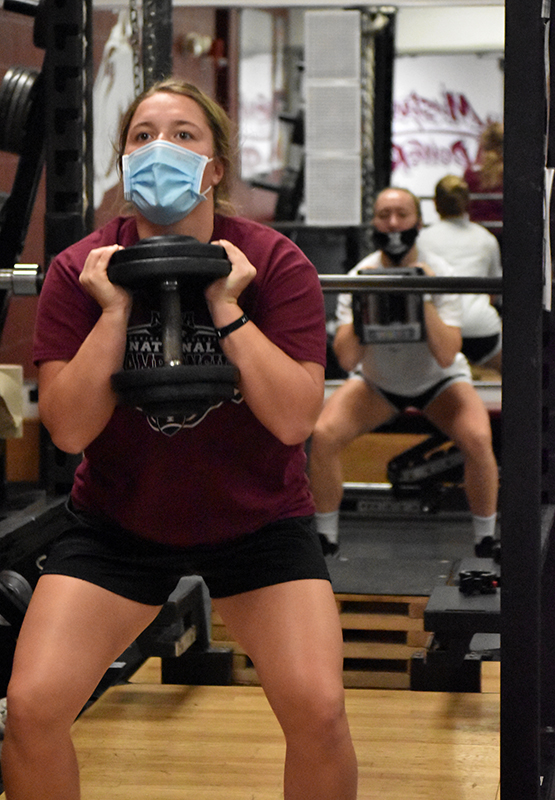 The message of being defensive has been put into action with BSWs and a heightened awareness in social situations. Squier said the same messages of being accountability are being implemented this season as if the pandemic wasn't a factor. The only thing that has changed is taking the measures to protect oneself and controlling what was possible.
One of the measures that the NAIA is requiring sports to do is screening before games and practices, then the data is reported to the NAIA. Morningside has also used the data to keep track of athletes and making it easier to do contact tracing.
"We're just making sure we're on the same page safety guideline wise and making safety decisions for ourselves," explained Boer "But if [teammates] are feeling sick, they need to contact coach and tell us because then we're obviously together every day."
Boer and the rest of the seniors agreed that they needed to be calm and approachable for the underclassmen, especially to get through this season. Along with improving communication, trusting teammates would make smart choices was a quality everyone on the team was held to high standard.
"Accountability is one of our number one things. Knowing, especially as a team captain, you can count on your teammates is one of the biggest things," said Boer, "Accountability reflects on the court as well off. It's so important off the court, on the court, and in your career. Just knowing you can hold people accountable is one of the biggest factors to me." 
Coach Squier expects accountability and good choices to be made. An example of this would be talking to a professor if they need more social distance within the classroom setting.
Making smart choices while still having fun out of practice has also required sacrifices. Trust in teammates is vital especially during these times.
"It's hard but that's where the accountability and trust comes in. We're not all together at times, which we get enough of that during the week, but just trusting they're making those right decisions," said Boer "It's like just the other day, we went to another team captain's house and we just like sat around. It was still just us volleyball girls but just knowing the right decisions were made and where you're actually going." 
Kiki Bennett, an RA in Dimmitt Hall, has seen the decisions people have made with their weekend. Her overall experience has been groups of people not following rules to prevent COVID.
"It's different with different people. Technically in any of the lounges you're supposed to be wearing a mask," explained Bennett,  "I'd say 80 percent of the people don't, which is kind of frustrating, especially when I don't think they realize that there are people with underlying health conditions that do live in the dorms. They think that 'oh we're young, if we get it, no big deal.'"
Bennett has seen within the dorms that athletes are sticking together and only hanging out with each other.
"No one wants to be the reason why our team got shut down," said Coach Jung about the heightened athlete accountability "I think a lot of that has to deal, with not necessarily fear of, but fear they are the weakest link. They are the one that could destroy the whole thing."
Barbells began being racked after their last set. Every volleyball team member start spraying down everything in their area with disinfectants and wiping it down, ready for the next group to come in. The team quickly brought it in, raising their hands towards the center.
"Mustangs on three! Three! Two! One! Mustangs!"
"We're definitely going to look back and be like wow what a crazy season. But just overall, taking care of each other. Making sure our safety is the number one thing. Having fun and communicating with each other. If we can control our controllables, we're going to make it far and know our goals we set for ourselves and knowing we can achieve them. I feel like we're going to go very far and achieve those goals," affirmed the volleyball captain.