by Mari Pizzini– Andy Nelson and Campus Ministries continued their M'side Chapel: Student Faith Stories series on Wednesday, February 12, in the Yockey Room.
A small number of students, faculty, and staff gathered for twenty minutes to pray, sing, and hear Taylor Van Vliet, a junior at Morningside, give her faith testimony. When originally approached by Nelson, Van Vliet agreed to speak but didn't know what she was going to say.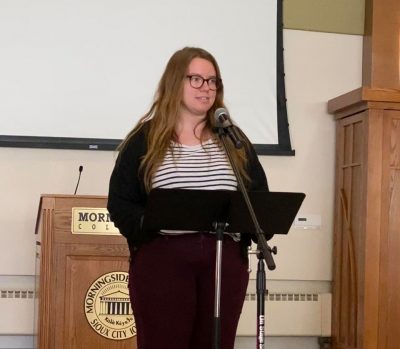 "I didn't think I had all that interesting of a story to share. I grew up in a classic Dutch Christian Reform family," Van Vliet began.
She continued by saying that she had asked to be saved when she was five, and didn't really question what that meant until she was older.
Van Vliet attended Lincoln Christian School starting in kindergarten, and religion classes were required to be attended by students. She began questioning the things she had been taught when she was in seventh grade.
"I realized that these issues [concerning abuse and divorce] couldn't be as black and white as my teacher made them out to be," Van Vliet said. "I really questioned the way my school presented what a godly life should look like."
"We were simply commanded to 'love our neighbors.' Biblical perspective came across slightly insensitive or just plain heartless," Van Vliet continued. "Rhetoric stripped other people of their humanity, simply turning them into problems a Christian would face."
The conclusion of her testimony brought listeners to her present perspective on Christianity by saying, "we are all broken and we all need God. For the first time in my life I feel a pull towards God and I intend to follow it."
Van Vliet was met with applause from the small audience. Many thanked her for her courage to share her story afterward.
Nelson finished the service by reading Ephesians chapter 3:17-19, which speaks about the depth of God's love. Choir members followed by singing "Be Thou My Vision."
M'side Chapel: Student Faith Stories will be held again February 26, 2020 in Yockey Room at 11:50 a.m.