by Kiki Bennett–Christmas, time traveling knights, and Vanessa Hudgens- a perfect recipe for a movie. Netflix released its latest Christmas movie, The Knight Before Christmas, which has been pulling at the heart strings of many Netflix users.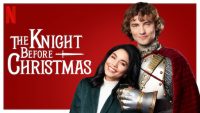 Vanessa Hudgens plays a high school science teacher who, after being cheated on, loses faith in love. She crashes into a time traveling knight, played by Josh Whitehouse, in a stroke of luck. Hudgens helps the weary traveler complete his 'quest' and regains her faith in love.
"This movie was one of those that was horribly good. Look, this movie won't be winning any awards but that doesn't stop me from loving it," said junior Macie Moore.
This movie is your typical cheesy Christmas rom com, with Hudgens' character meeting the cute guy twice . There is a child wise beyond her years, a cheery Christmas festival, and the magical spirit of Christmas. The Knight Before Christmas is perfect for any Hallmark movie lover.
Even though it is a movie about a knight, don't expect any violent sword fights.