by Abby Koch–Queer Eye returns for a special season of the series on Netflix, by redesigning people's lives in Japan. The reality series is a quick watch for anyone that will have you laughing and tearing up every episode.
Queer Eye episodes focus on a person of the week, typically someone who does good in their community or needing personal help, and improves aspects of their life. The Fab Five, who are five gay men, help out with a certain aspect: Antoni with food, Karamo with culture and mental health, Tan with fashion, Bobby with interior design, and Jonathan with hair and self-care.
Each member of the Fab Five spend time with the person, teaching them life lessons and how to better themselves. By the end of the episode, the candidate takes what they learned and applies it towards an event.
Queer Eye: We're in Japan! is different because of the location. Cultural differences were a highlight about the season, since the Fab Five had to approach candidates different compared to past. With each episode, audiences learn about the culture and societal beliefs with the Fab Five.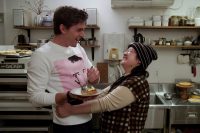 I feel like I learned a lot about the Japanese from the series. There were a lot of negative terms and ideals that I learned that the Japanese use which break my heat. There are a lot of Japanese aspects about life that I grew to appreciate by the end of the series.
The member of the Fab Five that shined the most in this series was Bobby. Bobby was very creative and strategic, making small Japanese apartments look like huge spaces. His expertise taught me a lot about designing interiors and how to make spaces seem different than what they appear.
I feel like all the tips and advice that the Fab Five were applicable. The tips that were given were useful for the candidates and will have audiences wanting to try them out. Some of the advice had me crying because of the candidate's need of it and my own personal need for it.
As always, the show is shot very creatively. There were beautiful shots showing the sights of Japan or tasteful angle of an intimate moment of a member of the Fab Five and a candidate. Shots like this had me appreciating the show, despite having a general disliking for reality shows.
Queer Eye: We're in Japan! is a quick binge and will leave you smiling from ear to ear. The candidates that they chose this season come from all walks of life and are completely different people by the end. I recommend this show for those who need an hour of positivity or those who love a good transformation show.
Queer Eye: We're in Japan! gets 8.5/10 button ups French tucked into pants.