by Steven Cutler–Bad Wolves, the heavy metal super-group from the City of Angels, has released their second studio album N.A.T.I.O.N. N.A.T.I.O.N., in my opinion, is a much more quality album from top to bottom than the previous studio album, Disobey.
Although with a mega-hit such as their Zombie cover or captivating collaboration on Hear Me Now with Diamante, the last album just didn't have a lot of quality songs on it. Bad Wolves changed that in N.A.T.I.O.N. The newest album by no means blew me away, but it was a good listen and a big step in the right direction for the up-and-coming band.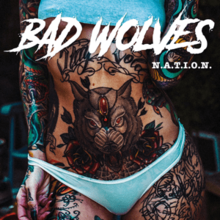 Bad Wolves has some incredible potential due to their prior experiences. They are managed by Zoltan Bathory of successful heavy metal band Five Finger Death Punch. Bassist Kyle Konkiel spent some time with the original sounding alt-metal band In This Moment. But what makes this band so intriguing is their talented lead singer-songwriter Tommy Vext.
Vext has spent some time with third tier bands in the past, but easily has had the most success with Bad Wolves. Vext has an incredible sound to his voice, supplemented with dirty vocals and rapid rap-rock speech. What really completes Vext is his fantastic writing, which he has plenty of content for with his rough past.
Digging in to the album itself, the songs that I feel did the most justice was I'll Be There, The deep and heavy sounding Foe or Friend, and the emotional song Sober. Most of the other songs are better than average, minus a couple.
The album opens with I'll Be There, one of the three singles that Bad Wolves released prior to the release of N.A.T.I.O.N. The song starts out with a quality heavy intro and Vext opens spewing rapid rap-rock lyrics in the verse. Something that really cool about the verse is the stutter that that Vext puts on the "major" word on every other line. The chorus is a nice answer, but is probably the weakest part of the song. I give this song a 7/10.
Foe or Friend is the angriest song on the album. The last album had a song called Remember When, which is about Vext's past relationship with his twin brother who tried to kill him and Vext testifying against him in court. His brother has since been in prison.
Foe or Friend re-visits this same situation. The song is the heaviest I have heard yet by Bad Wolves and has a great balance between clean and dirty vocals. The lyrics are deep as one would imagine in a song so close to the heart of the writer and singer. This song has more rap-rock lyrics, only this time with a dirtier vocal style. The instrumentals are very heavy and match the tone of the song well. I give this song 8/10.
Sober is a very emotional. The narrator talks about someone close to them that is suffering from substance abuse, but they can't decide if they want to let go of them or stand by and support them even after several relapses. The coolest part of this song is the narrator actually comes to a solution at the end when they decide to stand by this person. I give this song a 7/10.
Overall, this album is an improvement from the previous by the Bad Wolves. This album didn't blow me away, but I enjoyed listening to it and will certainly listen do it again. Vext is incredible in this album and the instrumentals do the songs justice, but just don't stick out very well. I rate N.A.T.I.O.N. by Bad Wolves a 6.5/10.