by Mari Pizzini–Collin Adank has been chosen as Morningside College's October Student of the Month. The college's chapter of Omicron Delta Kappa (ODK) cast their votes in Adank's favor at their October 27th meeting.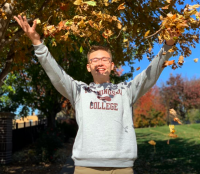 Student of the Month is awarded to a Morningside student who shows dedication to the college through their involvement both on campus and off. Students are nominated by peers in ODK and cannot be a member of the chapter.
Adank is a freshman, and he is currently active in multiple organizations on campus. He is a freshman senator in the Student Government, a Co-Event Coordinator for Active Minds, is an intern in the marketing department, and sings in the Camerata choir.
Adank was surprised when he won the award; he didn't know freshmen were even eligible.
"I didn't think a freshman would be in the running for [Student of the Month]," Adank said. "I was excited and shared it with the people around me. I feel pretty honored because I know the last student of the month was a senior and I'm only a freshman."
Anyone on campus, who is not a member of ODK, has the opportunity to win Student of the Month if they are nominated. Neither credits nor year count toward eligibility.
Adank believes that his immediate involvement on campus should not be unusual but that, in fact, it's necessary. He also said that it allows him to meet new people.
"Although Morningside is rather small, there's still so many different people on campus that you don't know. I look forward to running into those people and getting to know them."
"Being involved in the different organizations that I'm a part of has provided me so many different opportunities," Adank said. "It makes it kind of worthwhile being here. It keeps you busy, meeting new people, and continuously learning."