by Kiki Bennett–Sioux City held the 16th annual Riverssance Faire in Riverside Park Oct. 5.
Riverssance Faire goers could spend the weekend perusing local crafts – from handmade shields and weapons to dragon's eggs, and even potions and wands.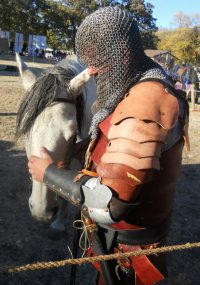 "The quality of craftsmanship was unlike anything I've seen before," said Gage Dewsbury.
The food at the Riverssance Faire is another aspect that draws people in. Homemade root beer and cream soda, mead, and turkey legs were just a few of the options Faire goers had to choose from.
Many people come to the Sioux City Riverssance Faire religiously every year. One man said he had been coming every year for fifteen years. Many people said they are excited to see the Riverssance Faire getting bigger and bigger every year.
Although the food and the craftsmen are great the one thing that really drives people in is the role play. "It feels like I was transported back in time," said James Spicer. Actors participated in jousting, sword fights, and singing.
Many people even participated in the roleplay. The festivities of the faire allowed people who were dressed up to participate in skits, like the parade.
A fan favorite for kids is the scavenger hunt, where they get signatures from actors to get a prize. Kids were also able to interact with goats, cows, and various birds of prey.