by Mari Pizzini–Senior Ally Hecht has been chosen as Morningside College's September Student of the Month. The college's chapter of Omicron Delta Kappa (ODK) cast their votes in Hecht's favor at their September 29 meeting.
Student of the Month is awarded to a Morningside student who shows dedication to the college through their involvement both on campus and off. Students are nominated by peers in ODK and cannot be a member of the chapter.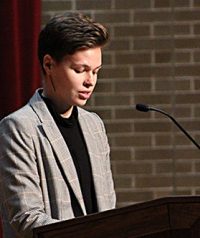 Hecht is currently active in multiple organizations on campus. She is the current head intern in the Marketing Department, is a member of the women's lacrosse team, is a current senior senator in the student government, and is the 2019-2020 Digital Editor for The Morningside Review and the Kiosk.
Off campus, Hecht is a member of the Sioux City League of Women Voters, and has held an internship with the Sioux City Human Rights Commission.
Even though she stays busy on campus, Hecht says the award came as a surprise.
"It was a great honor to be nominated by the student body and I was not expecting it. I was really excited."
Hecht spoke more about her appreciation for Morningside's student body, and the different organizations she's been involved with.
"The people I've met here are amazing, and I've tried different things because of them. Half of the things I was involved in I didn't expect to be a part of. I am so lucky to have experiences from all different things, it's something that is unparalleled."
Kailyn Robert, a Morningside senior and Hecht's roommate, said that Hecht was more than deserving of ODK's award.
"Ally is one of the hardest working people I know, and almost everything she does is for the benefit of Morningside,"Robert said, "She is incredibly self-motivated and determined, and is always excited to learn something new." .