by Steven Cutler–On August 9, 2019, just a day before their emotional homecoming performance at the Iowa State Fair, one of metal music's titans, Slipknot, released their sixth studio album, "We Are Not Your Kind."
The "Knot" hadn't released an album since 2014's ".5 The Grey Chapter," a somber addition to their discography that honored their late bassist Paul Grey after his death in 2010.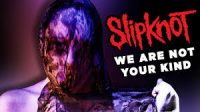 With the five-year hiatus over, Maggots have an album of fresh new music to bang their heads to.
"We Are Not Your Kind" is truly different from the previous five albums, and is the most experimental album by far that Slipknot has come out with. The album reached Billboard #1 a week after its release,".
"We Are Not Your Kind" proves that Slipknot refuses to fade away, constantly coming back with new sounds that nobody has heard from them before. Standout songs are "Nero Forte," "Spiders," "A Liars Funeral," and "Solway Firth."
"Spiders" is the most experimental song I have ever heard from Slipknot. It's a 10/10.
It has a prog metal vibe with a prominent bass line. Sid Wilson and Craig Jones are about as close to showing off as technical performers can be. There is a cool sounding guitar solo before the bridge that goes very well into the song. The percussionists do a wonderful job during this song, especially in the chorus.
"A Liar's funeral" gets an 8/8. I have always really appreciated Slipknot's slow, sad songs because they do such a good job of making listeners emotionally connected to the song. The verses have a stressed and angry feel, while the guitar changes it to a sad regretful feel.
The anger comes right back when Taylor screams "Liar!" This pattern repeats one more time before the climax of the song comes with Taylor chanting "Burn, burn, burn the Liar" with some military style sounding vocals toward the end. This song is an emotional roller coaster, like being angry with a loved one.
Songs that don't do this album justice are "Not Long For This World" and the two songs that are more just intro like pieces, "Insert Coin" and "Death Because of Death."
The thing that this album stresses originality. Being original is metal music's M-O, and Slipknot is one of the best at coming out with fresh new sounds. The percussion in this album is incredible, too, which we have come to expect from a band that has three different drum sets on stage at once.
Even though he has had to fill the shoes of one of metal's best drummers, Joey Jordinson, Jay Weinberg has done a terrific job, especially on this album in particular. Another common theme was how great the bridges were in many of the songs. A good bridge is a big piece of a song, but whenever a bridge hit in these songs, it seemed to just rev the listener up to a strong finish to the song.
In the end, the most important thing is that Slipknot is back, in what has really been a good year for Metal music, with both old legends, modern stars, and soon-to-be prominent bands releasing new albums.
Slipknot's sixth studio album, "We Are Not Your Kind" is 9/10.