by Jonathan Covert–Morningside lost at home to ninth-ranked Midland, losing in three sets. With the win, Midland improved to 10-3 overall and 2-0 in the GPAC. The loss drops Morningside to 8-3 overall and 0-2 in GPAC play.
Set one saw the Mustangs drop a close 25-22. The Warriors jumped out to a 9-7 lead. The Mustangs fought back to tie the set at 21-all. The Warriors would collect four of the last five points for the win.
Set two was a heartbreaker as the Warriors won 28-26. Neither team led by more than two points. The Mustangs had the lead halfway through the set at 14-12, and again at 22-21. The teams traded points, with Midland taking three of the final four set points.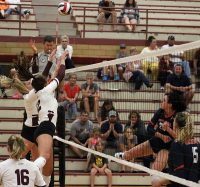 The Warriors jumped out to a 4-1 lead in the third set. The Mustangs drew within one at 13-12, but the Warriors pulled away for a 25-19 win. 
Some notable numbers for the match were Midland's eight aces to Morningside's zero. Both teams would have the same amount of attack errors (12), as well as Midland having one more service error (six to Morningside's five). Individual leaders for the Mustangs included Caitlin Makovicka with 10 kills, Sabrina Creason with 24 assists, and Ashley Boer with 11 digs. 
The Mustangs head to Crete, Nebraska, to take on Doane Tigers on Saturday (9.14).