by Jonathan Covert--Two first-half goals were enough to secure a 2-1 win over the visiting Waldorf Waarriors August 31.
The Warriors entered the match at 2-0-1 on a two-game winning streak. Morningside, 2-1, opened the season with wins over #14 Bellevue University and South Dakota School of Mines.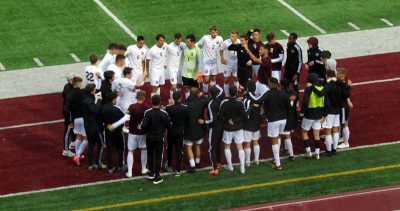 The Mustangs struck first as junior forward Austin Lingle (Sioux City) scored at the 4:28 mark of the first half. Sophomore midfielder Noah Aniser (Memmingen, Germany) earned the assist. 
The first half saw an aggressive Morningside team streaking down the field, leading to a second goal, this one by Aniser. The assist was picked up by freshman forward Robin Thomala (Wipshausen, Germany). 
Waldorf would strike just before the half when junior Anthonio Coletto (Sao Paulo, Brazil) drew the Warriors within one at the 43:53 mark. The teams would not find the back of the net in the second half. 
The win improved Morningside to 3-1; Waldorf fell to 2-1-1. Morningside next hosts Ottawa University September 5 at 2 pm at Elwood Olsen Stadium.