by Mari Pizzini/photos by Abby Koch–Montana Governor Steve Bullock's boots are scuffed and dusty from campaign travel. His campaign began in Iowa because as a presidential candidate, he knows the importance of the Iowan vote.
From Jefferson to Storm Lake, Des Moines, and Sioux City, Bullock is campaigning his way across the state. Bob Roe's Point After in Sioux City ended Bullock's Monday, June 10, meet-and-greet trail.

Bullock first spoke on issues held by Iowans. He answered questions on gun control, describing it as a public health issue.

"If we can ever speak about gun control as a public health issue, I don't see why we can't have universal background checks. I'm saying this as a gun owner and a hunter."
Working toward common ground, Bullock addressed the issues surrounding gun laws. He explained that he wanted to see guns in the hands of those who understand them.

"We should see guns as an increase in the possibility of death in domestic violence. We should be able to remove them in order to protect people."

He also addressed public land and keeping land in the hands of Iowans, as well as climate change, and the need to start changing now.

"Fire season is now 89 days longer than it used to be. You even see the effects of climate change here in Iowa. Many farmers haven't planted yet because of the floods. That's not normal," he said.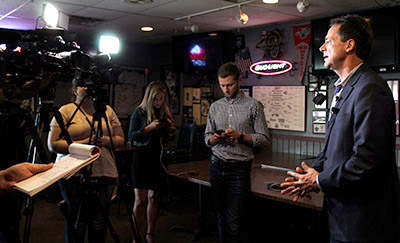 Bullock said that Washington can't wait 30 years to start working toward change, and Iowans can't wait 30 years either.

"How are we going to make sure that anybody in any community can have a better shot at a better life?" asked Bullock. "We are more divided today than at any time in my lifetime."

Bullock is working on a "Fair Shot" for all by working to bridge that divide.
Working in a Republican state as a Democrat, Bullock has seen this divide lessen. This is what he wants to bring to Washington.  

"Even in this time of deep divides, the government can work. I've seen it. I've done it by trying to seek common ground, but that doesn't mean you compromise the values that you have."

"We have to make sure this economy and political system is working for us," Bullock said. "For the sake of our country and the nation we're going to pass onto to the rest of the world, we have to make sure Donald Trump is not re-elected."

As a swing state with a caucus, Iowa draws candidates from across the country. Visited by Trump and Hillary in 2016, and most recently by Beto O'Rourke in April, Sioux City is among many cities on the campaign trail.

With Bullock only now reaching Iowa, many have questioned why he joined so late.

With more than 20 other Democratic candidates fighting him, Bullock only has one answer: "Fundamentally, I had a job to do. My legislature ended at the same time yours did."