Story/ Article #4 – Final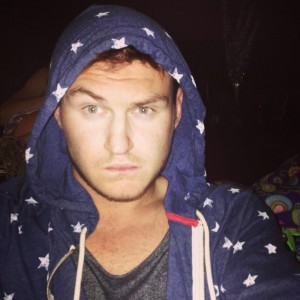 Standing at 5'11", with dark purple hair, charming blue eyes, a deceiving smile, and a hella good smolder is Tyler Martin Figge. If there was one phrase used to describe Tyler Martin perfectly, it would be: a nightmare dressed like a daydream. He is either everyone's best friend or worst nightmare. According to his roommate, Kyle Kinney, he's always causing drama, but means well. He will always there for you. Always willing to put aside all of the drama and his crazy partying lifestyle on hold, just to help someone out.
Tyler is a senior at Morningside College and is heavily involved on campus. He serves as the sexy vice president of the Morningside Activities Council, Beta Beta Beta President, Morningside Student Government Commuter Representative, and runs for the Morningside Track and Cross Country Team. He is going to Morningside for a biology/chemistry major with a minor in business and world history. In the future, Tyler's plans on going to grad school for marine biology or zoology because he wants to work with penguins. While in his free time all he likes to do is party, sleep, watch netflix, and paint.
"He will always be the life of the party and he definitely has to be the center of attention at that party. And if he's not, he kinda just pouts there in the corner." Kyle shares when it comes to Tyler at parties. He disagrees with him though, because if the attention isn't on him he will make it all about him.
For example, at a Halloween party he had arrived late, due to work, and instead of walking in and joining the crowd. He made his presence known and immediately everyone fed off of his energy. Then when he was ready to roll out, he took a select few back to his house and continued the party there.
Life of the party or not, he will always put aside his own feelings when it comes to helping out a friend in need. Tyler says for himself that he cares a lot for people and will do anything for just about anyone. He has a very big heart and a vibe that is very welcoming and opening to everyone. He is known to stick up for people and to say what is on his mind. His battle or not, if someone is getting picked on he will not stand-by to watch it happen.
His best friend, Anna Hart, backs him up on that statement. Saying that the best way to describe Tyler is that: "He's one of those people who's always there when you need him."
As nice as Tyler is, let's not forget that's he's actually a nightmare dressed like a day dream. As nice as he can be, he can also be your worst nightmare. You never cross Tyler Figge and think you can get away with it. Simply because once you think you have, it comes to bite you back in the butt. He'll make it seem like someone else did it or whatever happened as a pure accident on your part. It gets worse though, as scary as all that sounds the terrifying part of it all is that he's really good at turning you against yourself.
If there's anything you don't want to do, it's get on his bad side. Once you're there, you will never leave. So, whether he's doing research on penguins or plotting someone's pain, you can always bet on Tyler to put a smile on someone's face. He will always be causing mayhem and being the life of the party, while doing his own thing. Yet will always drop what he's doing to bring someone's spirits up. Best friend or worst nightmare, he always means well.
'Cause, darling, he's a nightmare dressed like a daydream.