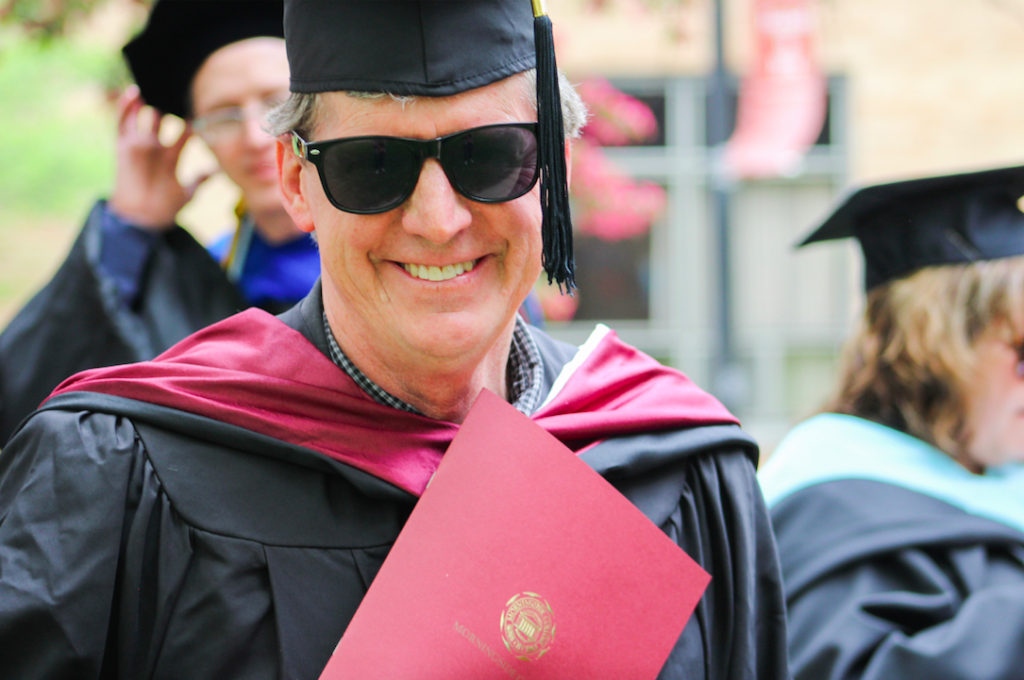 The 2021 issue of the Kiosk is dedicated to John Kolbo, who passed away in November of 2020 after a six-year battle with cancer. John was a Morningside alumni, who graduated in 1977 and majored in both art and music. He would go on to work in the graphic design field to develop branding and advertising for organizations and businesses in the Siouxland area. John came back to the dear ol' maroon in 1999, this time to step into the role as an educator. For his twenty years as a professor, John mentored numerous graphic designers for the real world and cracked many puns.
John was passionate about the process of assembling the Kiosk. He was the faculty advisor for the visual art side and was a driving force in making a unified look for the magazine. He was proud of the legacy he helped create and the awards that the Kiosk received for it. John would push his students out of their comfort zone by convincing them to take on the challenge of putting together the Kiosk. With every step, John was there to teach the process to his art editors and often commented, "Think about how awesome it is going to look when you show this bad boy to future employers!"
John made a habit of pulling all-nighters, even when he was battling cancer, to make sure the Kiosk was perfect. When this happened, his art editors tended to find him the next day with a wide smile, tired eyes, and with a lukewarm cup of McDonald's coffee in hand. Despite all this, John was always excited to announce that the Kiosk had been sent off to print.
John was a positive force and a light for the Kiosk. Thank you, John, for all the years dedicated to your students, to Morningside, and to the Kiosk. As you always told your students after an exhibit…
Good show.
Written by Abby Koch