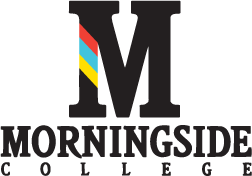 (05.11.2017) By Kayla Perkins — As the 2017 spring semester comes to a close, students go about their lives, be it moving home, staying on campus, or attending a May Term.
However, one group of students will be ending their journey at Morningside College, as the class of 2017 prepares to walk across the stage for graduation.
The class of 2017 is one that I am a part of and one that I have come to know very well, with several becoming my close friends and associates over the past four years.
Each of us have traveled through our college career in preparation for graduating, some paths easily and others with challenges.
"It's hard to believe I will be walking across that stage in just a few days," says senior Zach Torgerson, an education major. "It feels like we just came in, but I'm proud of where I've come, and I'll be proud walking across the stage with my son." Torgerson is a non-traditional education major who plans to teach in the Siouxland district this fall.
Members of the 2017 class have also finished at different rates, with some finishing early, such as Alex Sullivan, a business major. Sullivan was able to complete her classes in December, and has waited for this day ever since.
"I'm excited, it will be nice to get to be with all of my friends again, even for this one last hurrah," says Sullivan. Since graduating Sullivan has also decided to write a novel, and has become active in NaNoRiMo.
Morningside's current students both look forward to and dread having to say farewell to the 2017 graduates. Bradley Davis, a junior/senior came into Morningside as a sophomore, and is studying for an education degree. While he is finishing up classes soon, he still has student teaching that delays his walk until 2018.
"It'll be lonely without a lot of people I know here, but with student teaching it won't be so bad. I'm still hoping to be able to see a lot of my graduating friends after they're done. I'm hoping they'll want to see me off next year as much as I want to for them now," Davis says.
Today the class of 2017 will be practicing the graduation march to have a better idea of what to expect, and to learn what to do when the big day comes this Saturday at 2:00.
Morningside College students have had many ups and downs over the past four years, building up the characters of each member of the class of 2017.
It is sad knowing that many people I have come to know well will be leaving with me, but I also know that this is merely a new chapter beginning, as we all step into the world as graduates.
While this isn't goodbye, it's a farewell for now, and a see you later.