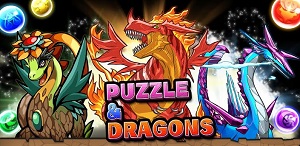 (05.10.2017) By Kayla Perkins — Video game players enjoy many different genres and types of games, from rpgs to simulations, varying in popularity as the market moves, but one type stands strong atop the rest: puzzle games.
Fans of puzzle games, including Bejeweled, Puzzle Quest and Tetris can look no further, as a new form of puzzle game has arrived in Puzzle & Dragons.
Puzzle & Dragons is a unique puzzle mobile app game produced by GungHo Online Entertainment that incorporates both puzzle solving skills and classic dungeon-style combat. Players delve into various dungeons to face monsters, who players must defeat by combining orbs in a grid.
Unlike many other puzzle games Puzzle & Dragons allows players free roam of the grid to arrange orbs within a time limit. By creating combos and larger rows players are able to deal larger amounts of damage to monsters, and gain overall better rewards from the dungeon.
Another unique aspect of the game is the characters themselves, as Puzzle & Dragons is one of few mobile app games to collaborate with several popular anime and video game companies, including characters from Final Fantasy, Voltron, Attack on Titan, and several others.
I decided to download Puzzle & Dragons after seeing an advertisement for the collaboration between the game and Voltron, and even though the collaboration has ended I find that I am still greatly enjoying the game.
Unlike most puzzle games, this game allows you free roam to a variety of dungeons, and changes them daily, so you never know what you will get when you turn the game on the next day. While some dungeons are challenging, despite the ease of some I always feel accomplished when I am able to complete a dungeon with a hoard of riches and new monsters to add to my collection.
One aspect I do not enjoy is the encouragement to purchase "gems" rather than winning them, as it is very easy to win gems that I believe are overpriced in the game. Unless it is a limited-time collaboration you absolutely need gems to buy with, I would recommend playing through dungeons to win gems instead.
This game is one I would absolutely recommend to video game and anime lovers alike, and especially to puzzle game fans, as this game puts a new twist on the limitations of puzzle games, and leaves players free to play with their own flair.
Puzzle & Dragons is available for free on iOS, Android, and Kindle Fire.