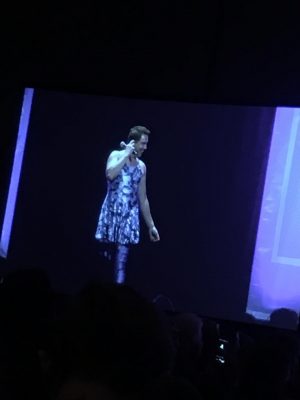 (05.05.2017) By Austin Brunick — The outwardly gay and extraordinarily funny John Barrowman attended and hosted a panel at Planet Comicon in Kansas City on April 29th, both entertaining and avoiding disaster.
Barrowman's Q&A panel took place on the main stage of the host hotel's ballroom, and the room was packed. Barrowman's panel ended up having standing room that was completely filled just five minutes after it started.
Barrowman started the panel with a huge to surprise to some as he came out in Tardis leggings and a dress, which he bought from an unsuspecting vendor at the convention. Barrowman's personality alone energized the room, but his stories and jokes about some very inappropriate things is what really made the panel.
Barrowman quite literally tore the house down – while in the middle of telling a story about how he was given a "marital aid" from a klingon at another event, the metal banister that held the backdrop, curtains and projector screen fell apart, falling onto the stage and injuring one member of the crowd.
Barrowman showed professionalism in this turn of events by turning the volunteers away from the scene, saying, "It's above your paygrade to do that," and "Step back it is not your responsibility."
Instead of leaving the stage as other stars have before, Barrowman sat down on the edge of the stage and continued telling his story of the marital aid.
Katelyn Stewart, a Freshman at Morningside, attended the panel and said, "[His professionalism] was top notch. His performance continued to be amazing even after the curtains fell down."
Barrowman ended the panel by thanking the audience for allowing him to do what he loves. Barrowman will attend Wizard World Minneapolis on May 6th and 7th.