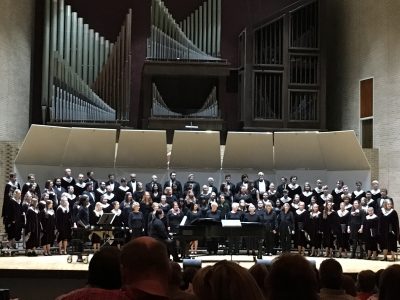 (03.21.2017) By Tabatha Storesund — The choirs of Morningside College and Siouxland sang at a concert on Sunday, March 19, 2017, receiving a standing ovation for their performance.
The concert was the Heritage of American Folk Music Concert, taking place in Morningside's Eppley Auditorium. The choirs in this concert were the Morningside College Choir, the Siouxland Master Chorale, Bel Canto Women's Chorus, the Eclectix Jazz Choir, and the Singing Men of Morningside.
The choirs each sang a few pieces alone, and at the end of the concert they combined to create the Morningside College Choral Union, performing "Battle Hymn of the Republic" as their last piece, receiving a standing ovation from the audience.
Throughout the concert each choir performed on their own and together, with some of the pieces performed throughout the concert being easily recognizable while others were more obscure.
The Morningside College Choir and the Siouxland Master Chorale first combined to perform "Cindy," followed by the Siouxland Master Chorale with "The Pasture" and "Ching-A-Ring-Chaw."
The Bel Canto Women's Chorus performed "Johnny said 'No!'" and "The Turtle Dove."  The Eclectix Jazz Choir then performed "You'd Be So Nice To Come Home To," "Hallelujah" and "Fly Me To The Moon".  The Singing Men of Morningside followed up with "Rawhide" and "Down in the Valley."
The Morningside College Choir finished the solos with "The Gift To Be Simple," "Every Night [When the Sun Goes Down]," and "O Salutaris Hostia."