(2.10.2017) By Jared Martin — It's 10:30 pm on a Monday, and twelve people have gathered in the Roadman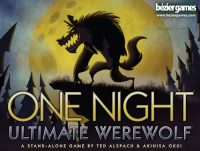 lounge to participate in a game. They're gathered in a circle, calmly debating about who they should kill next, trying to smoke out a team of monstrous werewolves.
They're playing Ultimate Werewolf, also known as Werewolf, as they do several nights a week, and it's started to play a significant role in their social lives.
The games became a regular occurrence during Homecoming week last September when Brock Bourek began holding regular Werewolf sessions in the Plex and Roadman lounges. Bourek says they played between 14 and 20 games in just that week. Now games are being held at least two days a week.
Each session ranges from eight people up to 24 at times, made up of a revolving group of 35 players. Students enjoy playing because it is a great opportunity to relax and socialize.
Freshman Madison Schueth said, "It's a good way to get to know people. It brings people together."
Bourek says he likes the social aspects, but he also enjoys the unpredictability of the game. "I really like that everyone can be yelling at each other and accusing each other, but everyone's actually good friends."
"It's not your typical game," says senior Stephen Jessen. He says it's a great way to sharpen strategic thinking.
Werewolf is made up of two teams: villagers and werewolves. Each round of the game is called a "night" where the players "go to sleep" by closing their eyes.
The game moderator, either a person or phone app who controls the game, then tells each character when to "wake up" to have their turn, and what they can do.
The villagers' goal is to figure out who the werewolves are, and to vote on who to lynch each round. The werewolves' goal is to eliminate all of the villagers without being caught and eliminated.
The game has existed in some form since 1987, and has gone by several other names, most notably Mafia. It's often played at large social gatherings or online, and requires teamwork and bluffing skills.
Bourek describes it as "People with fake IDs lying to save their imaginary lives."
"Come play with us," freshman Jason Latta says, "I swear it's not a cult!"
Tonight's game concludes with the werewolves winning. Bourek, Latta, and sophomore Amber Van Regenmorter have succeeded in eating everyone, but another game swiftly follows with a completely new setup, with a new moderator.
When the night is over everyone leaves with stronger friendships and the knowledge that they'll get the chance to do it all again very soon.
Anyone who is interested in joining in on the fun should contact Bourek, Jessen, or Latta via Facebook or email.